President Bharrat Jagdeo says he hopes that the films produced through the President's Film Endowment Project 2011 will promote local culture and see the revival of a true Guyanese identity.
According to a Government Information Agency (GINA) press release the initiative stemmed from a meeting with stakeholders in the local arts and entertainment industry in November where a small grant of $10M was committed to realise its objectives. Director of the Centre for Communication Studies at the University of Guyana (UG) Dr Paloma Mohamed was appointed to manage the project at that meeting. Proprietor of Kross Kolor records Birchmore Simon also attended the meeting.
During the first half of the year, a number of entities supported the project and it attracted partnership from the Ministry of Culture, Youth and Sport, the United States Agency for International Development, the universities of Guyana and Ohio, the Theatre Guild of Guyana and several other private organizations. "This led to the initial plan of funding five short films expanding to eight, allowing film makers to transition from conceptualization, to production planning, shooting, editing and post production," GINA said.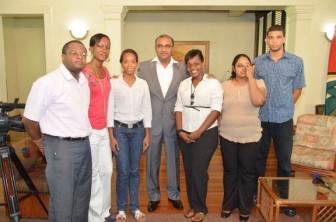 The films are from the dramatic, romantic comedy, cultural fiction and fable genres and are titled Hope, The Backyard, Three Cards, Firebrand Masquerade, Beached, Luck Beat Handsome, The Encounter and The Bottle. Each film boasts a cast and crew of at least 30, all of whom participated in a four-month training programme that was designed by award winning American film maker Brian Zahm from Ohio University.
In an interview with a team of senior students who are undertaking a final year project as part of their Communication Studies at UG, the president explained the genesis and broad objective of the venture. He told the team, which comprised Interviewer and Documentary Producer Wadecia Donald, Assistant Producer Melize Crawford and Camera operators Clarence Brotherson and Lereto Hodge, that the project was in keeping with efforts to revive the arts. He related that while brainstorming ideas, he was optimistic about initiating a film industry given Guyana's topography, social environment and the abundance of talent.
In response to a question about the benefits of the project, Jagdeo said that the benefits would be tremendous for Guyana as in addition to promoting local culture it could stimulate an interest in film-making. He also said the films can foster and reinforce a stronger sense of what it means to be Guyanese and he hopes that the portrayal of real-life situations here in Guyana would be a boon to the process of creating a national identity. The president noted that the Guyana classics were also republished as part of the initiative to revive the arts locally.
Around the Web