A boy, said to be in his teens, is now hospitalised in an unconscious state after he was hit by a car near the Canje Bridge yesterday.
The unidentified child, was rushed to the New Amsterdam Hospital, before being transferred to the Georgetown Public Hospital.
According to reports, the victim, said to be in his teens, was riding a bicycle along the Fort Canje Public Road, when the car, PKK 6296, drove into his path, hit him, and turned turtle in  a nearby  trench.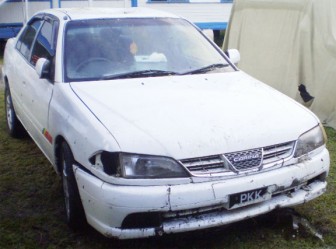 An eyewitness told this newspaper that it was just around 14:30 hrs, that the boy was seen riding towards the bridge. Soon after, the witness continued, the car appeared and suddenly slid off the bridge into the trench.
The witness, who asked to remain anonymous, rushed to the scene and saw the child's bicycle lying on the roadside; there was no sign of the boy.
Persons searched the bushy parapet and discovered the boy who was wearing black pants and a green and black jersey; he had a pair of earphones.
He was taken to the hospital where it was revealed that he sustained a laceration to his right cheek and severe head injuries.
The car, a white Toyota Carina, was subsequently removed from the trench and taken to the Central Police Station. The driver was taken into custody and subjected to a breathalyzer test which revealed that his alcohol limit exceeded the legal limit.
The driver remains in police custody .
Around the Web