A Partnership for National Unity presidential candidate David Granger has urged Lindeners to develop a spirit of forgiveness for those who they alleged planted the bomb on the Son Chapman that claimed the lives of 43 persons in the community.
Speaking at a commemoration event at Hurudaia, Upper Demerara River where the boat tragedy took place 47 years ago, he promised those gathered that "under the next administration [the site] will become a national park."
Alluding to the development of the promised park he said the site would be one of reconciliation, an announcement which received applause from those present.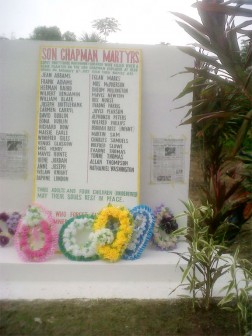 In a presentation centred on forgiveness and peace, Granger the dream was to have persons, especially children, converge at the site which is more than 17 miles by river from Linden, as a symbol of the love that is needed among the Guyanese family.
He said that those responsible for orchestrating the bombing are known and that the incident occurred during a time that was labelled "a hurricane of protest" by former president of Guyana Cheddi Jagan. He also recalled how close the country came to unrest during the 2002-2006 crime spree.
Granger, the candidate of the PNCR, was recently named APNU's presidential candidate. APNU is the banner under which the joint opposition parties are contesting the general elections.
Mayor of Georgetown Hamilton Green recalled being the general secretary of the PNC when the news of the tragic incident reached him and he was dispatched to assess the situation. He said the graphic images still linger in his memory. He called for an institute of conflict resolution and national reconciliation to be established as he feels it is needed in Guyana.
Owner of the ill-fated vessel Norman Yacoob Chapman referred to those blamed for the act as "dockites", meaning persons who stoop to the whims and fancies of persons in authority over them. "Beware of those kind of persons because we still have many of them around today," said Chapman.
Lewellyn John who was credited for spearheading the annual observance also made brief remarks at the activity.
Granger yesterday presented Chapman and others with copies of an artist impression of the launch shortly after it exploded as well as copies of an extract from Emancipation Magazine, titled, 'Homage to Hurudaia', which was written by historian and daughter of  Chapman, Janice Gibson.
The Son Chapman explosion remains one of the most bitterly disputed events in the race violence of 1964.
Around the Web