For Lindener Gem Elliot, the Women of Worth (WOW) programme has been a big boost to her catering business as since managing to get a bank loan she has expanded her operations.
"I took the loan to expand my business because it wasn't as big as this. I used to supply one person alone [and] individual persons like the school children on a daily basis. Now I am supplying three snackettes Mondays to Fridays and I was able to employ an additional staff," Elliot told Stabroek News in a recent interview.
She is among some 1,029 single mothers, who have benefited from the programme since its introduction by government under the Ministry of Human Services and Social Security early last year.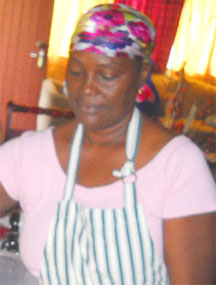 Under the programme single parents interested in starting a small business have access to a micro-loan at the Guyana Bank for Trade and Industry (GBTI) with the main aim of the programme being financial empowerment.
Elliot and another beneficiary, Gem Hall of Castello Housing Scheme, said they have received financial empowerment.
Hall, a mother of two, owns a grocery shop which she operates in front of her home and she said since she got the loan her business has boomed and she is "making a good turnover every month."
Both women said that with their businesses flourishing it is never difficult to find their monthly repayment to the bank.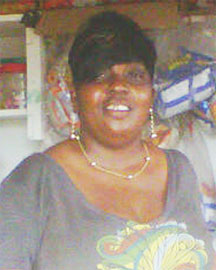 Minister of Human Services & Social Security Priya Manickchand recently told Stabroek News that the WOW programme is one she is very proud of as she has seen how it has been able to improve the lives of single mothers. She said most of the women who have received loans have been faithful in their repayments adding that there is some $500 million available to the scheme on a revolving basis.
Women can access loans of up to $250,000 without having to put up any collateral.

Simple process
Elliot told Stabroek News that she heard about the programme from a friend who encouraged her to apply for a loan and she has not regretted the decision.
"The process was simple. I don't know for other people but for me it wasn't long," she said with a satisfied smile.
On a normal day, Elliot said, from about 6 am she starts selling snack bags to school children, "So you could guess how busy I am during that time because the traffic is usually heavy."
Before the loan, Elliot said, she did not own a freezer but she has since purchased one and is now selling juices and drinks.
Every day she supplies one snackette with 12 cheese rolls and 12 burgers; another requires 30 burgers, 36 cheese rolls, 24 patties, 24 pinetarts, 36 chicken pies, 20 slices of macaroni; the third requests 40 burgers, 12 chicken pies, and 12 cheese rolls. Any extras she makes are then sold to the public.
"Added to that, I would get special catering for workshops, birthday parties, anniversaries and those things," the proud Lindener said.
The only difficulty for Elliot is travelling to Georgetown to repay her loan as she said if the due date is the day when "you have something major to do …that leaves you thinking how to make the payment on time."
Asked if she would apply for a second loan on the completion of the repayment of the existing one, without hesitation, Elliot said she would.
"Yes I would apply for a second one if I could get it, but for now let me concentrate on paying off this one then I would think about it," she said.
But she already has plans. Should she be granted a second loan, she disclosed, she would want to open her own snackette, in addition to supplying the regular customers. "Getting to the level of opening my own little bakery is not a bad idea," she mused.
Elliot is a mother of two and foster mother of one and explained that she has lived a single parent life for the "full lifetime of all three of my children."
However, she quickly explained that the fathers of the children have always been supportive along the way so "it wasn't that difficult to the maximum. I hadn't that problem of getting the fathers to support their children. They were there more financially and to an extent they had a very good relationship with the kids. For my son Randy, his father lives in London and three times he sent for him for holiday."
Now her son is in school overseas but still depends on her support while her daughter is married and now managing her own home. Her foster son lives with her attends a private school.
Since receiving the loan, Elliot said, she has advised others to apply and she lauded the Ministry of Human Services "for coming up with something like this because it benefited a lot of parents."

Had some doubts
Hall, a single mother of two, who also assists with support for two nieces whose mother died, said initially when she was told about the programme she had some doubts. But she is now happy that she put these aside and ventured to the ministry, as her life has been greatly improved.
"I have been operating this shop for six years, in fact I took it over from my sister, and at that very time I really needed some money to put into it," she told Stabroek News recently.
When she got the phone call informing her that she would be granted the loan, Hall said, words cannot express how she felt. She used the loan to stock her shop with dry goods and drinks.
Hall said she has never found it difficult to make the monthly installment and she always ensures that she pays it on time.
"I was able to turn over the money from the loan and I am seeing my way," she said.
Hall, a cosmetologist by profession, once owned a salon but was forced to close it. Her two children are 22 and 16 years old and she has lived as a single parent all their lives. The father of her children also played a vital financial role in their lives, but now she contributes to her young son attending a technical institute. She also ensures that her nieces attend school every day and their other needs are met.
She also hopes that when she has repaid this current loan she will be granted another one and expanding her shop is one of the ways she plans to utilize the money should it be granted.
"This programme is really for the empowerment of women and I am happy that I get to be a part. It is making women more independent," she said.
Around the Web