The charge against Anand Narine, who was accused of circulating nude photos of his ex-wife Babita Sarjoo, was dismissed yesterday after the court upheld the no-case submission made by the defence.
Magistrate Geeta Chandan Persid-Edmond, who presided over the matter at the Georgetown Magistrates' Court, informed that the matter was being dismissed because of insufficient evidence.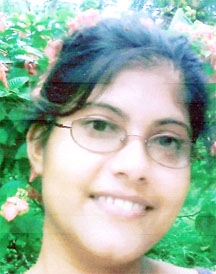 The magistrate made the decision after attorney Maxwell McKay, who represented the accused, renewed his application for the court to uphold his no-case submission.
McKay argued that the prosecution had not been able to prove its case against his client. According to counsel, there was no evidence that his client posted the pictures and as a result could not be held culpable as there was nothing linking Narine to the charge levelled against him. The magistrate then said that the court would be upholding the no-case submission made by the defence.
The decision was handed down moments after the final witness took the stand, marking the end of the prosecution's case.
Only three of five witnesses testified in the matter as the prosecution related to the court that the other two could not be located. Sarjoo, who has been missing since last year, was one of the two unavailable witnesses.
When the matter was called on Thursday last, the magistrate fixed yesterday as the peremptory date on which she ordered the prosecution to close its case as witnesses were not forthcoming.
The court noted at that point that it had been granting the prosecution repeated adjournments since September last year to have witnesses present but to no avail. Meanwhile, Detective Sergeant Mitchell Caesar, who should have been present yesterday to tender exhibits in the matter and be cross-examined by the defence, was again a no-show. The magistrate allowed the matter to be stood down for some time yesterday after the prosecution indicated to the court that Caesar was on his way to court. Caesar, however, never turned up.
When the matter was called on June 23, in order for Caesar to take the stand, he was absent. This had also been the case on a previous occasion. A warrant had been subsequently issued for his arrest.
Narine was accused of exposing pictures of Sarjoo to public view to corrupt public morals on August 31, 2010. Narine is alleged to have plastered copies of Sarjoo in public, including on the fence of her then place of employment, BK International.
In August last year, months after Sarjoo was hired at BK International, employees arrived at work to find printouts of a nude photograph of the young woman pasted on the fence and on trucks belonging to the company.
The man had always maintained innocence and was admitted to bail in the sum $75,000. Sarjoo, a mother of one, has not been seen since the night before Diwali 2010.
Around the Web