A couple is battling for their lives after a fire destroyed their Plaisance home on Monday leaving them severely burnt.
Natasha Johnson, 22, suffered severe burns to most of her body while her spouse Delon Gordon, 19, sustained burns to his face and upper body.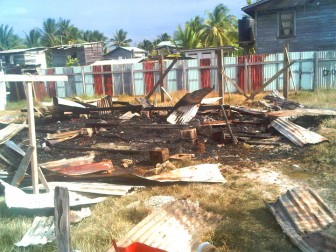 However Johnson's one-year-old daughter and her four-year-old son escaped unharmed while the couple's baby girl is being monitored at the Georgetown Public Hospital for possible smoke inhalation.
Reports reaching this newspaper are that the two were involved in an argument and a fire subsequently erupted.
Witnesses said that Johnson was seen running out of the house screaming but apparently after realizing that her baby was still in the house she ran back to rescue her child. Within seconds, the witness said, the woman was seen rushing out of the burning structure with the baby.
The witness said Johnson was heard screaming, "Delon ah love you baby…how could you do this to me?" she said the woman then ran to the head of the street  where a taxi that was dropping off residents took her, Gordon and the baby to the hospital.
The source said the other two children are currently in the care of their father.
At the hospital, Johnson was still not responding and her family fears that her injuries are very severe. Meanwhile, Gordon said that the fire was caused by a dysfunctional stove which exploded.
But relatives of Johnson doubt that this is what occurred. Police are investigating.
Around the Web