Essequibo Police are investigating the circumstances surrounding the death of 29 year old Ghansham Pooran, of Jibb Housing Scheme, Essequibo Coast, who was found yesterday in an old freezer.
The freezer was in an old canter truck parked near his ex-wife's home.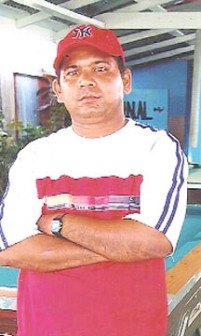 Although police are investigating the case, it is believed that Pooran, an epileptic, may have suffered a seizure and fallen into the freezer, which is used to store feed for chickens. He was foaming at the mouth at the time of the discovery, which was made by his elder son at about 5pm yesterday afternoon.
Kishan, who made the find, was going to get some feed for their chickens at the time. He told Stabroek News last evening that they would normally put the chicken feed in the old freezer.
According to Kishan, he opened the freezer door and saw his father. "I shout fuh me mom to come and see that something happen to me father," he said.
Nalisha, the dead man's ex-wife, said she went to investigate and found Pooran in the freezer with froth coming from his mouth. She immediately informed her neighbours of the discovery, then called the police and reported the matter.
According to Nalisha, she and the man were married for nine years and the union produced two children. However, they separated.
She said Pooran suffered from epilepsy. He also drinks a lot, she said, and it is believed that he might have gone into the freezer to drink when he suffered a seizure, resulting in door closing, thereby trapping him inside.
Pooran's body was taken to the Suddie Funeral Parlour, where a post-mortem examination is expected to be performed.
Around the Web