Hemwanttie Jagasar has made history by being the first pupil of the Supply Primary School at Mahaica to obtain grades to attend Queen's College (QC).
Hemwanttie, who gained 520 marks at the recent National Grade Six Assessment, said that her hard work and persistence werekey to her success. "I studied almost every night," she said.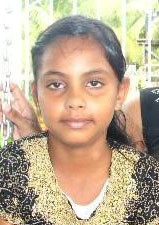 "Many times I felt like giving up because I had to study and at the same time make time to help my dad." Hemwanttie's dad Deleep Jagasar is a cash crop farmer. "Many days I had to help my dad to tie up the bora and parcel out the tomatoes so sometimes when I was finished, I was very tired."
The young achiever said that she would like to become a bank manager.
When asked what advice she wants to give to other students, she said, "Hard work with dedication is the key to success and you should never give up no matter how difficult things might seem."
Hemwanttie disciplined herself by eliminating all of the distractions so she could keep her focus on her exams. "My hobby is watching TV," she said, "nobody like me when I am in front of the TV, but I had to ask my mom to put the TV in her bedroom."
Through her primary school years she was always a top student in her class, though her friend in the same class always had higher grades in the final examinations.
This time though, she noted, she did better than her friend.
Hemwanttie is the eldest of three siblings. She has a nine-year-old sister Sharmailie who attends the Supply Primary and a four-year-old sister, Nirmala.
Hemwanttie's mother Vishpattie Persaud said she was very happy and proud of her daughter's achievement. She is confident that her daughter has set an example for her younger sisters to follow. "My daughter is the first person in the entire family to attend a town school and I will do everything as a mom to give her the support," she said. "You see as parents we have to be behind we children. It is our responsibility.
"My daughter got the flu the day after she wrote her first exam. Her illness made me think that she was not able to do it," she said.
Head teacher of the Supply Primary, Volda Alleyne said, "Over the years we have had outstanding performances from our students but this is the first time that the school has ever had a student obtain grades for QC."
She said she and the staff of the Supply Primary are constantly working towards bettering the students' overall performances.
Around the Web