A fisherman is feared dead after his boat capsized yesterday afternoon in the Demerara River, some distance off the Herstelling foreshore.
Lakeraj Mahadeo, called "Kaveraj," 39, of 256 Third Street, Herstelling is suspected to have drowned shortly after he would have left the Herstelling, East Bank Demerara foreshore to go fishing, sometime after 1pm. Up to late last evening, Mahadeo had not been found despite repeated search attempts by his relatives, friends and neighbours.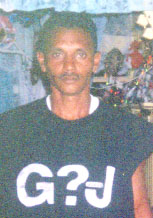 Some fishermen, who were with Mahadeo before he went out in his boat, said that prior to boarding his vessel, he had been drinking. One man said that he had advised Mahadeo not to go out, given the state of the water, but he insisted that he was going out. "He don't like hear," the man said repeatedly.
The man said that later on some boatmen who were out in the river told him that Mahadeo had gone overboard. "They tell me de man duck. Me ain't know which part he duck though," the man said. The man added that he was able to retrieve Mahadeo's boat with assistance from the other boatmen who were out in the water at the time, but they saw no sign of him. Mahadeo's boat was later used by the search team.
Mahadeo's aunt, Golin Bissoon, told Stabroek News that at about 12:30 pm, her nephew left home to go fishing as he usually did. "For years he do this wuk," Bissoon said.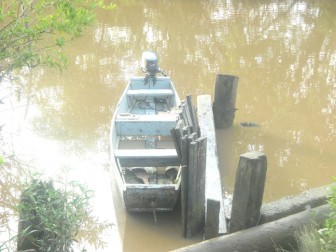 She said that about 3:30 pm, a boy came and reported that Mahadeo's boat had turned over in the river and that he could not be found.
The man's reputed wife, Indrawattie Roberts, said she last saw her husband at about 8am, just before she left home to travel to Georgetown. "I been to town and I come back and deh eating when a lil boy come by we and say how me husband boat duck and deh can't find he," she related to this newspaper.
Roberts said she made a report at the Providence Police Station and that the officers there had promised to get a boat to assist in the search. According to her, the police said that they would also contact the Coast Guard. However, more than two hours later the police were yet to arrive at the scene.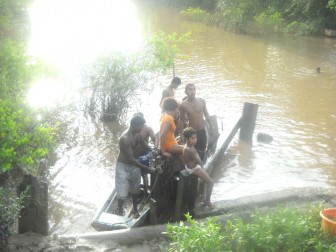 Roberts said that her husband would fish every day and sell what he caught to residents in the village.
She said while he would sometimes go out with his friends, he would often go out alone.
Mahadeo, she said, would normally go fishing in the areas between Herstelling and the Flour Mill in Eccles. "Every day he does go out, ah dah he living," she said.  The woman said that her husband was a strong swimmer but acknowledged that the river was very deep.
Roberts said that she and Mahadeo had lived in Venezuela for several years, but that they returned to Guyana seven years ago when her father died.  After returning, they decided to resettle here.
The couple has five children; the youngest is seven-years-old, while the eldest is 18 years-old.
Around the Web