Sugar worker Mahendar Ally, of Kilcoy Settlement, Corentyne, was stabbed to death yesterday after an argument at a 'bush cook' turned deadly.
Ally's assailant, who allegedly stabbed him when he tried to end a fight, has been arrested along with others who were present during the incident.  All the men had been drinking.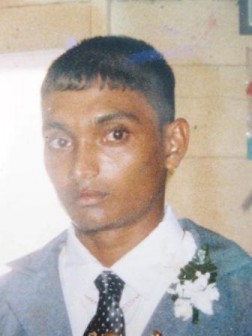 The incident took place at Toopoo, Albion, where according to Ally's widow, Sugeeta Dhaneshessar, he said he was going for a 'bush cook' with his friends. This newspaper was told that Ally and four others were drinking when the suspect, who had also been drinking, approached. The suspect later tried to assault one of the men, prompting Ally to intervene. But his assailant picked up the knife the men were using to break ice and stabbed Ally once, to the left side of his chest. He later fled with the knife. The man was later arrested and he is being held at the Whim Police Station.
Meanwhile, Dhaneshessar said she was contacted later in the day and informed that her husband had been stabbed. She later travelled to the scene, where she found him dead. He was later pronounced dead on arrival at the Port Mourant Hospital.
The couple, who share a four year old son, was expecting another child in two months. The pregnant Dhaneshessar, however, was unsure how she would cope. "I feel helpless…What going to happen to me?" she asked.
Around the Web