A young  man was yesterday remanded to prison when he appeared before acting Chief Magistrate Priya Sewnarine-Beharry charged with the June 29 Norton Street armed robbery of two women.
The allegation against 18-year-old Travis Moore is that on June 29 at Georgetown, being armed with an ice pick, he robbed Aquao Agard and Patricia Edwards of gold and diamond jewellery and cell phones, totalling $947,000 in value.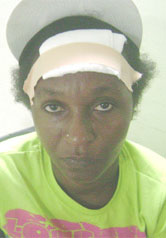 On the same day also the labourer is accused of assaulting Sherry Lake with intent to rob her.
The teenager who resides at 5&6 East Ruimveldt was not required to plead to the indictable charges when they were read to him at the Georgetown Magistrates' Court.
In presenting the facts of the case, Police Corporal Venetta Pindar said that on the day in question the virtual complainants (VC) were at their 19 Norton Street home when the defendant along with others armed with ice picks and cutlasses entered and demanded the items mentioned in the charge.
According to Pindar, after relieving the complainants of the items, the perpetrators made good their escape. The court then heard that the VCs raised an alarm and alerted a mobile police patrol that was in the area and Moore was apprehended.
The prosecution objected to the accused being granted bail citing the seriousness and prevalence of the offence and the likelihood of him interfering with witnesses.
Attorney Patrice Henry who represented the accused said that his client has maintained his innocence. According to the lawyer, Moore was walking in the area and was picked up by the police moments after the alleged incident.
Henry said that the young man was later taken to the police station where he was slapped with the charges. The matter will be called again on July 8.
Around the Web