China's Ambassador to Guyana, Yu Wenzhe on behalf of the Chinese Government and Jiangsu Province of China yesterday donated $16M in medical equipment which will be put to use at both the Georgetown Public  Hospital (GPH) and the Linden Hospital Complex.
Speaking at the  handing over ceremony held at the GPH yesterday, the ambassador stated that the items donated are very sophisticated equipment, and they include an eye operation microscope and an automatic operating table.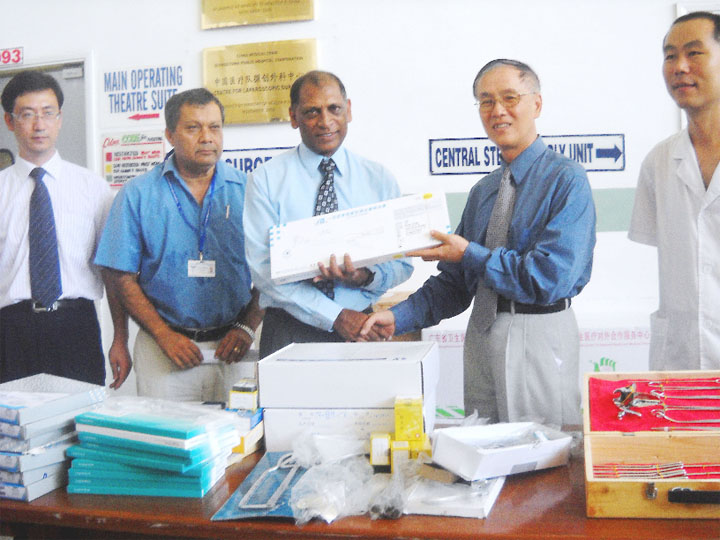 Wenzhe noted that this is the second time that the Chinese government is contributing to the medical sector in Guyana, the first time being in 1993 when the first batch of Guyanese medical students were sent to China to study.
The ambassador also revealed that this year China will be granting eight government scholarships for Guyanese to study medicine in the Asian country, and they will add to the twenty  who are already there pursuing medical studies.
Wenzhe concluded that he hopes this joint cooperation between the two governments will improve healthcare in Guyana and that Guyanese will be able to see more results.
In his statement, Minister of Health Dr Leslie Ramsammy noted the two separate sets of support that Guyana receives from the Chinese government itself and from Jiangsu Province of China.
He said that it is important to note that several departments have been strengthened by the support of the Chinese collective; the first one being the ophthalmology department, the second the orthopaedic department, and the third being development of laparoscopy [a surgical technique in which operations in the abdomen are performed through small incisions], while the Burn Care Unit has also seen some development.
Minister Ramsammy concluded that the ministry hopes to build the friendship over the years, and soon Guyanese doctors will be able to provide the same services that are being provided by the Chinese doctors now.
Around the Web