The lifeless body of a physically challenged Mon Repos, East Coast Demerara man was today pulled from his septic tank, hours after he was discovered to be missing from his home where several pieces of furniture had been set afire.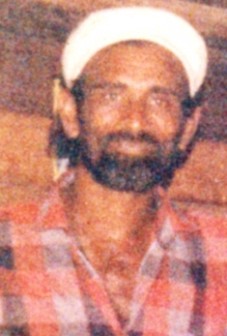 called `Panjax' age 54 of Lot 23 Mon Repos Pasture  is suspected to be the victim of foul play and the police along with anxious relatives are awaiting a post-mortem examination to determine how he died.
Police said in a press release earlier today that they are investigating the "suspected murder" of the man whose body was found in a septic tank at his residence at about 0530 hours.
Investigations so far revealed that the house in which Haniff lived alone was seen on fire by neighbours at about 0230 hours. Residents and relatives in the neighbourhood formed a bucket brigade and extinguished the fire. They them made checks for Haniff in the building but did not find him.
Further checks resulted in his body being found in the septic tank of the home.
The body is at the Lyken Funeral Parlour, the release added.
Relatives are convinced that the man was killed but were unable to come up with a motive. The man was last seen alive yesterday afternoon when he was cleaning the living room/kitchen area of his modest two-bedroom, one- flat home where he lived all his life.
Haniff lived next door to his mother and other relatives but none of them or other neighbours recalled hearing any strange noises prior to the fire being spotted.
A distraught Bibi Haniff said that she was asleep when she was awakened by a neighbour and when she looked out she saw smoke coming from the house which is located next door. She said that when she arrived, neighbours were already trying to gain entry through the front door and after this was done she entered and found two sofas and a bed ablaze. However there was no sign of Haniff.
After she, other relatives and neighbours did not locate him, they reported the matter to the police at the Beterverwagting Police Station. She said that ranks returned to the location with her and after searches they still did not locate him.
After the police left she said, they decided to check the septic tank and made the gruesome discovery.
The woman said that her brother had no problems with anyone but he "like get plenty friends over". She said that previously, persons had broken into the home and stolen money he had hidden in one of the destroyed sofas.
The woman opined that at least two persons attacked her brother as he was big built. She said too that he would have had to be lifted out of the house and into the septic tank since he was unable to walk unaided following an accident at his workplace many years ago.
She said that Haniff, a cane cutter had fallen on a punt and has since been using crutches to walk. The crutches she said were found near a clothes horse in his bedroom; this is where he leaves it when he goes to bed.
She said that from all appearances the perpetrators broke in through a back window. However it is unclear how they managed to leave since the front door was secured. The woman also expressed disbelief that no one saw anything suspicious before the fire started.
Around the Web