A dedicated Carib connoisseur, Robert Callendar won the top prize of a Toyota Allion car, when the Carib Domination promotion came to a close on Monday night at the grand drawing hosted in the parking lot of the Pegasus Hotel.
As the realisation dawned on Callendar that he had picked the winning number in the drawing, he was ecstatic.
When he spoke to Stabroek News on Tuesday, Callendar was still shocked. "It happened and I'm driving it, but I still can't believe it," he said. The Kitty resident told this newspaper that he has supported Carib Beer since Ansa McAl came to Guyana. He said he only drinks Carib Beer and will continue to support the company.
Four other persons also won prizes at the drawing which was held during the Wotless Show sponsored by Ansa McAl Limited. East Bank Demerara resident Meenawattie Ramlall won a motor scooter.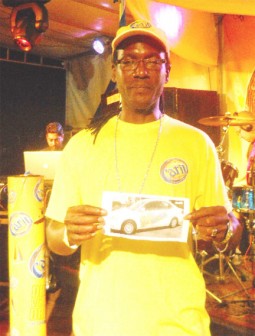 The woman said she is very proud and extremely happy with her prize which she plans to give to her 16-year-old daughter. Dorwin Holder was also happy with his LCD Flat Screen television set. "I never won anything before. Everything I have I worked for it," he said.
The winners of a Laptop computer and an Apple iPod, Brijraj Ramsaroop of Corentyne, Berbice and Karan Rampersaud, of the East Coast of Demerara, respectively, both said they were overjoyed and excited to have won. Both of them said this is the first time they had won a prize.
Public Relations Officer at Ansa McAl Darshanie Yussuf said she was pleased that the five contestants all won attractive prizes and that they are happy with their gifts. She also said Carib will continue to give back to its supporters.
The promotion entailed persons purchasing Carib Beer and checking their Carib crowns for an image of a double six domino. These lucky patrons then became eligible to enter the grand final draw, where they were required to select a number from one to five. The prizes were hid in the numbers, which were subsequently revealed.
Around the Web