Synergy's boss Fip Motilall continues to be badly behind in the Amaila Falls access road project and  failed to fulfill his promise to deliver four-wheel access to the proposed site by the end of last month.
When contacted yesterday, government engineer Walter Willis confirmed that Motilall had not yet achieved four-wheel access to the site but declined to provide further details.  He noted though that penalties could not be applied because the deadline for project completion had not yet been reached.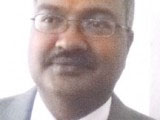 However, reliable sources close to the project told Stabroek News that Synergy is still far behind schedule and that the government is extremely concerned at this. The deadline for the US$15.4M project is September 9.
Last year, Synergy won the contract for "the upgrading of approximately 85 km of existing roadway, the design and construction of approximately 110 km of virgin roadway, the design and construction of two new pontoon crossings at the Essequibo and Kuribrong rivers. The company was also to clear the pathway alongside the roadways to allow for the installation of approximately 65 km of transmission lines.
The Public Works Ministry granted Synergy the construction notice to proceed for Sections 1 to 5 on October 5, last year. The construction notice to proceed for Sections 6 and 7 was granted in January.  Previously, Willis had told this newspaper that since the second notice was belatedly issued, the contractor was given back his time.  The project has an 8-month time frame.
A few months ago, government expressed concern about the delay in the project and had recommended that Motilall subcontract aspects of the project The completion of the access road is seen as critical for financial closure to be secured for the construction of the actual hydropower plant.
The project is being developed by Sithe Global.
Around the Web