There is still no sign of fisherman Lakeraj Mahadeo more than a day after his boat capsized in the Demerara River just off the Herstelling foreshore.
Yesterday family members and neighbours continued their search for the 39-year-old without any success. Relatives told this newspaper that the Coast Guard also assisted in the search yesterday. Stabroek News was told that searches were made extensively along east bank Demerara as well as some along west bank Demerara.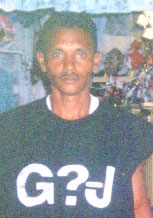 Meanwhile, relatives said they were still hoping for the best. They said that even if the worst had happened they would still like to recover Mahadeo's body.  "If deh find he, at least we on sure footing," one relative said. Mahadeo and his reputed wife Indrawattie Roberts have five children ranging from 18 to 7.
The fisherman left home at about 12:30 pm on Tuesday to go fishing like he normally did.  However, at about 3:30 pm, relatives said that a little boy came and informed them that Mahadeo's boat had overturned in the river and that he could not be found.
"I been to town and I come back and deh eating when a lil boy come by we and say how me husband boat duck and deh can't find he," the man's wife had  related to this newspaper.
Relatives had complained about the slow response of the police at the Providence Police Station, who despite promises made to assist in the search only turned up on Tuesday evening.
Some fishermen, who were with Mahadeo before he went out on his boat on Tuesday afternoon, said that he had been consuming alcohol.
Around the Web