Wage negotiations between GuySuCo and GAWU have begun, with the union requesting a 12% wage increase for workers while the corporation is holding firm to a five percent offer it made earlier this year citing its dire financial situation.
President of the Guyana Agricultural and General Workers Union (GAWU) Komal Chand told Stabroek News yesterday that the wage talks are currently on hold as the corporation prepares statements on its revenue base and outstanding debts.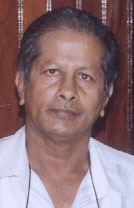 Chand noted that a decision has been taken to address other concerns in the interim, including the conditions for work.
He said there is a need for improvement in certain areas and the corporation has agreed to address the concerns raised by the union.
Chand said the two sides are expected to meet again next week for further discussions, and provided the necessary statements are prepared the wage negotiations would resume. He observed that sugar workers deserve better wages and reiterated the union's position that five percent is not enough. Previously, he had labeled the corporation's offer "unacceptable," saying workers in the industry continue to receive poor wages.
GAWU will represent workers and fight for better wages, he had said then, adding that the union intends to press the corporation into offering workers adequate wages.
Commenting on the industry, he said the first crop finished with 107,000 tonnes, which was below the projected numbers of 138,791 tonnes. Chand said the crop closed some three weeks ago with the second crop timetable set for a mid-July start at a few estates.
Chand had raised concerns about the first crop back in April, saying then that a shortfall of around 30,000 tonnes was likely based on the production figures at the time and the threat of the approaching May/June rains.
GuySuCo would have to enjoy a bumper second crop to reach its 2011 target of 305,000 tonnes. Weighing in on this, Chand said the estates should be up and running by the end of July and much work would have to be done.
He said the repairs have been completed on the damaged boiler at the flagship Skeldon factory, but pointed out work is currently ongoing on the other boiler which was functioning. "Skeldon has had some problems but they are working on it," Chand added.
Last year, the industry ended the year with a dismal 220,000 tonnes of sugar; one of the lowest production figures in years.
Around the Web