Almost six months after the much-vaunted One Laptop Per Family (OLPF) initiative was launched the first 142 persons identified to benefit from the project are now being allowed to take the computers home.
Minister Manzoor Nadir, who has ministerial oversight for the project, told Stabroek News yesterday that the project is moving into a second phase which will be monitored by the OLPF Secretariat to see how it plays out.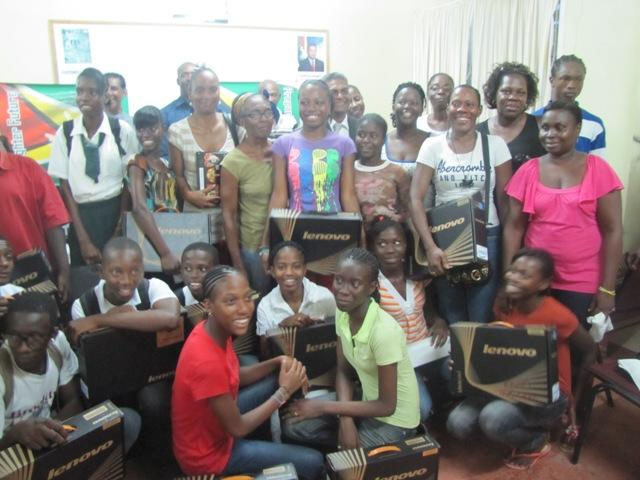 He explained that his phase includes teaching and doing community service.
The 142 persons who will benefit come from the Abrams Zuil Secondary School in Essequibo, the Volunteer Youth Corps (VYC), D'urban Backlands, the Hinterland Students Amerindian Hostel and the St. Francis Community Developers in Rose Hall, Berbice. At the launch of the programme on January 21 at the International Conference Centre, President Bharrat Jagdeo had ceremonially handed over computers to these groups.
Although, these persons have undergone some amount of training, Nadir said that the beneficiaries have previously had exposure to the computer and are fairly knowledgeable.  According to him, the persons who now have access to the computers will now have to teach three disadvantaged persons and to teach them how to use the computer.
On Wednesday, 23 students from the Abrams Zuil Secondary School received the instruments, while yesterday those from the Volunteer Youth Corps (VYC) and the Hinterland Students Amerindian Hostel received theirs.
The computers given to the 142 persons would have been the instruments purchased with a US$50,000 "thank you" gift from Chinese company Huawei, after it was awarded a US$14 million contract to lay fibre-optic cables here. Questions have since been raised about how ethical this transaction was. Under the OLPF, the government plans to distribute 90,000 computers to poor families over the next two years.
The government has said that 50,000 units are supposed to be distributed this year. However, controversy has swirled around the project since its launch. Government recently retender-ed for the supply of computers for the project after the initial tender was quashed when none of the three companies that bid were found to be sufficiently compliant.
Around the Web