Three persons were injured yesterday morning, following an early morning accident on Mandela Avenue.
The accident, which occurred sometime after six yesterday morning in the vicinity of the Chinese Embassy, was caused by a car that ran headlong into a lamp post, which then broke and fell onto the car.
early yesterday morning. As the pole fell, it dragged the live electrical wires with it, posing a serious danger. The three occupants were badly injured and taken to a city hospital. (Photo courtesy of Gordon Moseley)"]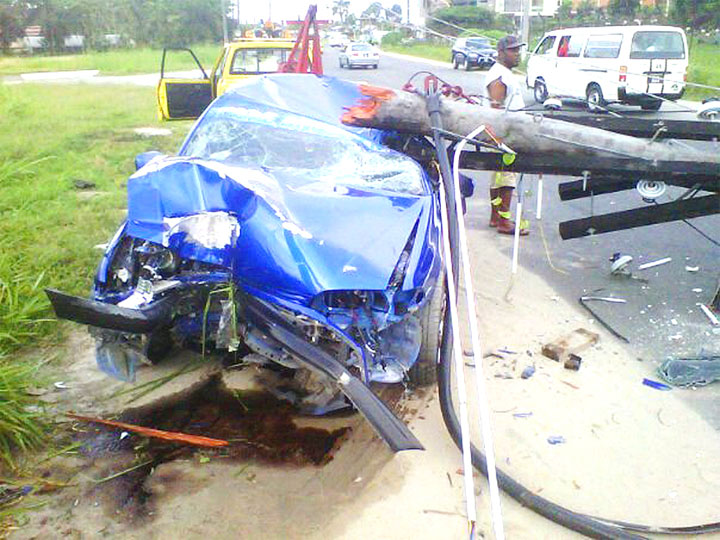 When this newspaper visited the scene of the accident, Guyana Power and Light Co. (GPL) personnel were at work replacing the damaged pole. A security guard from the nearby Embassy related that when he arrived on the scene, at around 7.15 am, the accident had already occurred and the occupants of the totally wrecked car had already been transported to hospital. However, he noted that the GPL workers were already on the scene attempting to rectify the situation. "This is the first time I saw them respond so fast to a situation like this, probably because this road is usually very busy," he said.
It is understood that the three occupants of the car were taken to the Georgetown Public Hospital but then transported to a private hospital.
As a result of the accident, there was a massive build-up of traffic along the whole of Homestretch Avenue, because one lane on the Mandela road was blocked where the pole fell.
"It was a lot of confusion," a motorist said, while relating her experience in the long line of traffic as she made her way to work. According to the woman, she left home at around 8am, and arrived at work at 8:55am. Usually, she said, the drive from where she lives to work usually takes half an hour.
The woman related that there were too few traffic police officers on the road, given the situation. As a result, some motorists were cutting out from the line and moving into the next lane in an attempt to beat the traffic, not knowing the reason for the build-up.
When they reached to the end of the road and realized that there were police on the road, they forced their way back into the long line.
According to the motorist, she noticed that there were only about three policemen directing the traffic, even as the traffic lights continued to function, thereby exacerbating the situation. Up to 9:30am, persons were still caught in the traffic build-up.
Around the Web