Anna Lisa Fraser-Phang became the first female President of the Rotary Club of Georgetown when it held its Installation Ceremony for its incoming 2011-2012 Board of Directors on Wednesday, at the Georgetown Club.
According to a press release issued by the Rotary Club of Georgetown, Fraser-Phang is the first female President in the Club's 52 years of existence.
The Club was first formed as a Provisional Rotary Club of Georgetown in July 1958 and formerly recognised by Rotary International on May 20, 1959.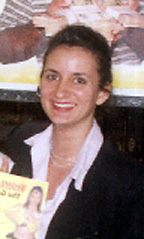 Fraser-Phang told this newspaper that it was an honour to be chosen as the first female President of the Club but stated that she did not "think it is really different from any other President trying to lead other members to the next stage." In fact, she said, she had 104 bigger footprints to fill. Phang told Stabroek News that she is equipped with a great team and is looking forward to a fun year.
Past President Jonny Carpenter (2009-2010), in his final speech as outgoing President, said that his year as President has "enriched" his life. He noted that under his leadership the Club completed over 70% of its programme, with the remainder "still in the works" to be completed by the incoming Board.
Among the many activities in this year's Calendar of Events, are the rehabilitation of playgrounds and the collaboration with other Rotary Clubs to plant trees, in order to ensure the continuity of the planet.
The new Rotary Board of Directors comprises: Fraser-Phang, President; Lisa Foster, Secretary; Harrinand (Ralph) Persaud, Treasurer; Khalil Ali, President Elect; Harry Parmesar, Vice President; Ronald Burch-Smith, Sergeant-at-Arms; and Gary Fitzpatrick, Liz Cox, James Bovell, Stanley Ming, Michael Warton, and Kit Nascimento, Officers.
Around the Web