Help & Shelter, which for years has been provided critical services to victims of domestic violence, is in need of urgent funding to continue its public education programme and cover its administration costs, its Administrator Margaret Kertzious has said.
Because of the lack of funding, the organisation has been forced to curtail its education programme, while some staff members have had to take a cut in salary.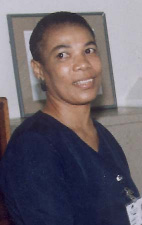 According to Kertzious, hardest hit by the drain in finances is the organisation's public education drive, which has not seen any funding for the last two years. Because of the lack of funding, Kertzious said in an interview with Stabroek News, the administrative staff has been forced to take a cut in salaries. The salaries for Help & Shelter's counsellors are being covered by a grant.
She explained that over the years the public education programme has benefited from funding from CIDA's gender equality programme, USAID and other international donors. Since the funding dried up two years ago, Kertzious added, they have tried to keep it alive minimally with whatever funds they got by maintaining the outreach programmes in the various communities.
However, today there is no money to plug in that area and if none is received then the programme may have to come to an end.
Kertzious revealed that recently the secretary for the Board of Directors of the organisation had sent out letters to corporate entities seeking to get some financial assistance to assist in the work and had received some positive responses. But most of that is being used up to cover the organisation's administration work, as according to Kertzious "we are surviving so far from the letters we have sent out to the corporate entities."
Help & Shelter hopes that those companies who have not responded to the cry for help will do so. Kertzious said that they continue to send out letters seeking assistance.
'Not very, very serious'
There is no donor for the public education programme, though "it is one of the programmes through which we aim to visit all the regions in Guyana to continue to do the work that we would do in this area," Kertzious explained.
She was quick to point out that other aspects of Help & Shelter's work have not been affected, since it has received funding from the European Union to keep its counselling service going for the next two years. The shelter, which provides temporary accommodation for those persons who want to remove themselves from abusive situations, is covered by a grant from the government.
"So the operation for the shelter is intact as we receive funding from the government on a continuous basis for that," she said.
"This, [the lack of funding in some areas] is not very, very serious in the sense that even though we still need money to cover our public education programme—and that is one of our core activities—we still provide that service to a certain extent," she said.
Explaining the importance of the education programme, Kertzious explained that over the years through the programme visits have been made to all the regions and the organisation has maintained some of the contacts that were made in the regions and would refer persons who need help.
"Even though they may still call the hotline, we could always refer them to persons in the regions where they can go and get some sort of assistance," she said.
The programme also helps the shelter to "advertise ourselves by saying what work we do" and encourages persons who are experiencing domestic violence to access the available services.
Further, schools have been targeted through the programme in various areas along with other groups and during these public outreaches not only domestic violence would be addressed but also trafficking in persons and HIV/AIDS.
"We could look at it as a three-fold public education programme, meaning that when we go out there we say what our services are, we deal with the topic of domestic violence so that persons can know where to come and we can also send them to the shelter if they want to remove from the situation," Kertzious explained.
She said it is critical for the organisation to continue to work in the schools and this is one aspect of the programme that it would try to continue to keep afloat as it has received positive feedback.
Around the Web