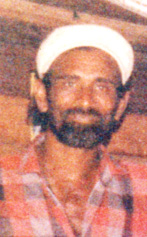 Abdul Azeem Haniff, who was found dead in his septic tank on Thursday, was strangled to death, a post-mortem examination yesterday confirmed.
Government pathologist Dr. Nehaul Singh gave the cause of death as asphyxiation, due to manual strangulation.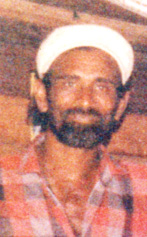 Meanwhile, Stabroek News has been reliably informed that police are looking for a woman, who was the last person to be seen at Haniff's Lot 23 Mon Repos Pasture, East Coast Demerara home. The woman was said to be friendly with the physically-challenged man.
As relatives were preparing for his burial yesterday afternoon, they expressed hope that the killer(s) will be caught, and justice would be done.
His distraught brother, Abdul Alim Haniff, told Stabroek News yesterday "is people come and kill he." The man opined that Haniff, 54, was killed in his bed by at least two persons, who later dumped his body into the septic tank.
At the morgue yesterday morning, he said, his worst fears were confirmed when it was revealed that his brother "was choked to death." He added, "more than one person had to do that because he is a very strong man."
He also opined that fire was set to pieces of furniture—two sofas and a bed—with the aim of burning the building to destroy any evidence that might have been left behind.
The man said that it was he who found his brother in the septic tank. He explained that when he got the information that he was missing, he thought he had been kidnapped.
He said that by the time he arrived, persons had walked all over the yard so it was hard to tell if the killers left footprints behind. He said too that they were also led to believe that someone had taken him, since the crutches he used to help him walk were still in the house.
Asked what led him to the septic tank, he said that he began studying "whey they could carry a man like that, who can't walk." He said first he started looking at two water tanks and then at the septic tank. At that moment, persons were walking on the septic tank and he asked them to check inside. However they were not inclined as both covers were over the holes. "Dem boys jump off and walk off and when I go and mek suh, de man deh in there," he added.
It is believed that the perpetrators entered and exited through a window, because when neighbours went to the house, no doors were open. The front door had to be broken. Haniff said that it also appeared that the men jumped over the fence, as the gate was still locked. It is also believed that the killer took off the main switch, plunging the house into darkness.
He said that a house next door had surveillance cameras but he was unsure if the occupants were assisting the police. "Rememba, that is private thing, suh I don't know if police could get it," he said.
Nevertheless, he noted that the police have assured him that the killers will be caught.
Haniff's sister, Bibi had said that while she was not aware of his having any disputes with anyone, he was known to entertain many friends at the house. She said that persons had broken into the house on several occasions and stolen money that he had hidden in one of the chairs that was burnt. She said that she found it strange that only the furniture was on fire and nothing was missing.
Haniff, a former cane cutter who sustained spinal injuries after he fell on a sugar punt many years ago, lived alone.
Haniff was buried according to Muslim rites.
Around the Web