A fire yesterday at Vreed-en-Hoop has left two people homeless.
The fire occurred at around 7:45am at Lot 36 New Road, behind Mohan's Supermarket. A customer of the supermarket raised the alarm.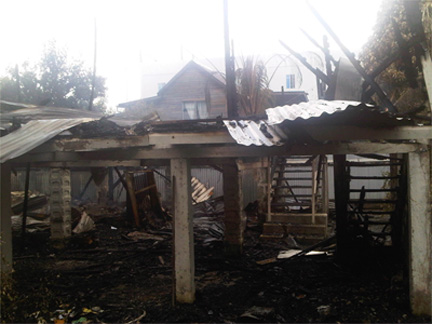 A fire truck from Georgetown arrived at the scene approximately fifteen minutes before the tender from the Leonora Fire Station.
Stabroek News spoke to occupant of the house, Denzel Viedal, who shared the house with his mentally-challenged sister, Jenny.
He said that he retired to bed early and was awakened by smoke at around 7am. "The smoke inhibited me. I was confused and shocked. If I had thought to get my keys, I could've had someone go through another entrance to save the computer and some other items," he said.
Neighbours believe that the fire was caused by Jenny and one associate of the Viedal family stated that Jenny would "light small fires behind the house. Sometimes she will out them but sometimes she will leave them to out by themselves."
However, Denzel strongly stated that his sister was not at home at the time of the fire and suggests foul play. "It is very opportunistic since my sister is demented and the blame could easily fall on her," he said, adding that there was a dispute over the property.
He also said that it could not have been an electrical fire since he had switched off everything except one light.
"I don't know. I don't know. It's so mysterious. I would like to be comfortable in my home at this age," said Denzel. "I'm a Christian and this is what is helping me cope with this.  If I hadn't known God, this would have been madness. This is very distressing."
Witnesses say that the surrounding houses were saved because of the quick response by one of the Viedals' neighbours.
The man, Zahir Khan, told this newspaper, "I was sleeping, then my mother woke me up and told me about the fire. I run to get my pressure washer and started to try and put the fire out."
The house had four bedrooms and was jointly owned with another sister who lives in Trinidad. Viedal estimates his losses at $8.5 million and he is looking to approach the Guyana Relief Council for assistance. Denzel Viedal and his sister are currently staying at a neighbour's house, which is not occupied.
Meanwhile, relatives who once lived there said that the house had always been their home. "No matter where we go, we always return there."
Around the Web