Champa Seonaraine is still hoping, nine months after her 28-year-old daughter mysteriously disappeared, that she will one day just walk into their Timehri, East Bank Demerara home.
"I don't feel she is dead and I can't say if she is dead or not but as a mother I don't get the feeling that she is dead," a tearful yet hopeful Seonaraine told Stabroek News recently.
July 4 made it nine months since Babita Sarjou left her home on the eve of Diwali last year informing her family that she was going to view the motorcade with her estranged husband and son and promised that she would have been back home at around 9 that night.
She has not been seen or heard from since.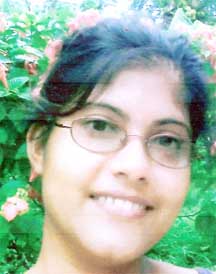 On July 5, the day after the nine-month anniversary of Sarjou's disappearance, the court case against her former husband Anand Narine in which he was accused of plastering nude pictures of her outside her BK International workplace was dismissed by Magistrate Geeta Chandan Persid-Edmond. The magistrate upheld a no-case submission made by the defence and indicated that there was insufficient evidence. Three of the five witnesses had testified in court but critical to the case was the fact that Sarjou did not testify and Detective Sergeant Mitchell Caesar, who was still to present exhibits to the court and be cross-examined by the defence, failed to turn up even though an arrest warrant was out for him.
Seonaraine said when the matter was dismissed on Tuesday she was not in court as she was delayed because of transportation woes but as she climbed the court steps she observed her former son-in-law and his lawyer leaving and she knew the matter was no more.
"I walk in the court and went straight to the clerk and ask wah happen to the case and she tell me it just dismiss," the woman said.
She said she walked straight out of the courtroom but at that moment she felt that the justice system had failed her family and moreso her missing daughter.
"I hurt too because I never one day late fuh court and deh magistrate coulda wait till I come and then dismiss the matter. I wanted to hear wah she say. I woulda feel more satisfied," the grieving mother said.
It is the firm belief of Seonaraine that Babita did not just disappear but rather is being kept against her will to prevent her from testifying in court. The woman pointed out that her daughter left that morning for work and it was after she and another daughter indicated that they did not want to go to the motorcade that Babita said she was going to view it with her former husband and son.
"People say she go way because she shame because of de pictures but since this thing happen she never one day been miss work and I know that it is just silent dem want keep she silent…," the woman said.
She said her daughter being held is a lesson for her and if she is ever freed she would be forced to remain silent for the rest of her life and not report what had happened to her.
She noted that her daughter had appeared twice in court after the matter was filed and it was just before the third hearing of the case that she went missing.
The woman said while she believes that the matter would have been dismissed in the final analysis, because of the absence of Babita she is still peeved over the way the matter was handled by the court and the police. She questioned why the police sergeant was repeatedly absent from court even after an arrest warrant was issued for him.
"Why would he do something like that?" the woman asked.
However, she pointed out that at one time Sergeant Caesar was in court and he gave his evidence-in-chief and the exhibits were in court yet the magistrate decided to set another date for the exhibits to be tendered and for the police officer to be cross-examined. On the next date the sergeant appeared in court but without the exhibits and indicated that the station sergeant 'gone on some church trip' and he didn't get the exhibit.
"I am very hurt how this thing turn out, I know Babita is not here but I still feel that it was not a balance case," the woman stressed.
"I feel I get no justice, we know why Babita is not here but we can't prove it," the mother and grandmother said, breaking down in tears at this point.
The mother said she believes the police officer deliberately did not come back to court to finish his testimony adding that "a court is a place where people go fuh justice but you not getting justice because of corruption.
"As a mother I feel my child is still alive and is who feels it knows it. It is nine months of not sleeping when the night come because I don't know where my daughter is."
No access to her grandson
What is even more hurtful for the woman is that since her daughter's disappearance she has not seen her grandson. She said the child was living with his father when her daughter went missing and since that date the child was never taken to see his mother's family.
"I love my grandson, is my daughter son and I want to see him but I can't. How you think this make me feel?"
While an aunt and a cousin would call the child from time to time no family member has seen the child since Babita went missing. The grandmother said she has spoken to the child a few times but there is reluctance by the child to speak to them.
"I don't know if de father does be listening but you could hear like he don't want talk and when you ask he if would come and see grandmother he say 'never'," the woman said as tears rolled down her cheeks.
Babita and her husband were being counselled at the Ministry of Human Services & Social Security and it was there the young mother was advised that if she wanted to file for custody for the child she had to empower herself. She was doing just that when she got the job at BK International when shortly after the nude pictures of her appeared.
Since Babita's disappearance her sickly father has taken a turn for the worse and her mother said at one point she thought he was going to die.
"Is I have to stay strong for the family and I strong I will be here for a long time. I does get up three o'clock in the morning and go to Bourda market and buy greens to go back to Timehri to sell. I will continue to be strong for the family…," the woman vowed.
She said while she knows that her daughter did not go away as some believe her case is now a cold case as the police are doing no active investigation in to her disappearance.
On particular interest and concern to the woman is the fact that two female police officers at the Kitty Police Station had changed their stories in a matter of hours and she feels that "some money pass somewhere".
The woman recalled that when Babita did not show up, she initially thought she might have spent the night with her son and his father, even though the couple had been separated for a year.
A text from her husband the following day to a family member informing that Babita should call her son alerted her that something was wrong and she made a missing person's report.
In the text the husband wished the family a Happy Diwali, which was also strange since the man was not on speaking terms with the family.
The mother had recounted that she went and reported her daughter's disappearance at the Kitty Police Station and was shocked when she was told by two female officers that the man had gone to the station the night before and made a report. "When I reporting the two of them look at each other and one a dem tell me how Anand went and report the night before that Babita was to come and see the light up with them and she ent turn up and he come to clear he side," Seonarine had said in a previous interview.
She had added that she immediately fired off questions to the officers, including asking what gave her son-in-law the right to report the young woman missing.
She had pointed out that even if Babita did not turn up to view the motorcade, her husband could not have just assumed that she was missing and made a report to the station without even contacting her family to ascertain whether she had changed her mind and gone home instead.
However, Seonarine said she was even more shocked when she returned to the station the following day to give a detailed statement, which would have included what she was told about the man making a report, when one of the officers told her she had misunderstood her and that the husband had made no such report.
"I am a 54-year-old woman you think I wouldn't understand what she tell me?" the woman questioned during the recent interview.
"I would maintain what they tell me and I would say it over and over till I dead. I know what dem say and my story would never change," she said forcefully.
Seonarine said she is not accusing anyone of being responsible for her daughter's disappearance as she has no proof but she knows what happened.
"Whosoever the cap fit let dem draw the string, there is a God and he know what happen," she said resignedly.
Around the Web