Kara Lord was crowned Miss Guyana Universe early this morning after she came out swinging with a strong answer to the final question.
A leading favourite, Madonna Ghanie, didn't make it into the top six after her answer to a question didn't appear to find favour with the judges or the audience at the Princess Hotel pageant.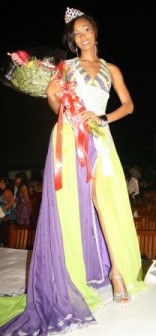 Following the announcement of the top six, all the scores were erased and Lord was named queen just after 2 this morning after she aced the final question which was 'If you were the president of Guyana what would you change about your country?"
Lord in her response said that she would strive towards harmony in strengthening Guyana 's population because there is not much unity in the country. She added that cohesion among all people would portray the country's motto: 'One people, one nation and one destiny.'
Ghanie, who many were rooting for as they felt she had the `queen's look', boldly stated that should she become president she would change nothing in the country as President Bharrat Jagdeo was already doing everything "perfectly."  Her answer left the audience speechless for a while and it came as no surprise that the beauty, after copping Miss Body Beautiful and Best Smile, failed to make the cut in the final six.
In a big surprise it was Seromanie Choomanlall, the beauty from Essequibo who had made a mess of the intelligence segment last week, who was named first runner up for her answer: "I would like to change the fact that this country lacks  employment opportunities."
The second runner-up position went to Judith Sullivan who stated that as president she would change the way the country is viewed worldwide and she would put the country on the map by developing tourism among others.
Ayanna Harris was named third runner-up after she declared that she would place emphasis on the education system as children are the future.
Another favourite before the final question was answered was Roshini Boodhoo whose confident smile was wiped off her face following the crowd's reaction to her answer which was as president she would promote her platform which is breast cancer.
The pageant started a few minutes after nine and the fact that it finished after 2 am was due to rain forcing patrons to leave their seats ever so often.
Lord, a 23-year-old aspiring Psychologist had told Stabroek News before the pageant that she has  her future dream underway, having already obtained a Bachelor's Degree in Psychology from the University of the West Indies.
Her platform was HPV/Cervical Cancer, which she thinks society needs to be more aware of, "I know it's very prevalent in Guyana, and I've known two persons who died from it. If there's more awareness of it then it will be less of a social problem," she said. Kara's interests comprise watching cartoons, having family time, fitness, socializing, travelling, and meeting new people.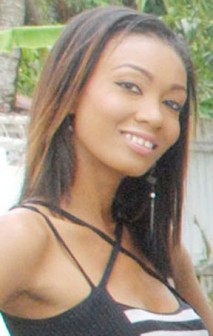 Currently an employee at Human Resource Management, she believes that women are stronger than they think they are and should treat themselves and others with respect, learn to control their emotions and make conscious decisions for their own benefit as well as that of others.
She was the surprise winner from a field of 10 and had not been named as one of the frontrunners.
Around the Web