Patricia Williams has never walked, but she has never let her lack of mobility hold her back. She was disabled from birth, but has determinedly lived as normal a life as possible and is now making plans to get married next year.
Patricia, who practically grew up at the Cheshire Home in Mahaica, now works there as a caregiver and took time out from her busy schedule to recount her life story, and encourage persons living with disabilities as well as those who are related to them, not to give up the fight and to believe in themselves.
Patricia, also called Patsy, was born in Lancaster at the Mahaica Hospital with a defect, which according to her occurred at birth. She said a cousin told her that forceps were used during her premature delivery. "Apparently they squeezed it too tightly and I came out blue. Therefore the oxygen wasn't going as it normally should. I took a long time to talk, and to do the normal things that babies are supposed to do. Then when I was a year and two months they saw that I wasn't walking as I should. My feet are paralyzed. They have feelings and so on, but I can't do the movements like you," she said.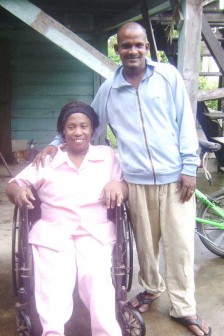 Patsy's mother Ismay Hutson, lived in Georgetown but worked as a maid at the Mahaica Hospital and at first, she left her in the care of the Guyana Red Cross Society Convalescent Home. However, as a result of Patsy needing a lot of attention and her mother wanting to be closer to her, she was taken to the Cheshire Home to live.
When Patsy was 16, Hutson died, and she went to live with her father in Georgetown. "My dad [was a carpenter] in Campbellville and I had a stepmother," she explained.
Her disability was overlooked and she was ill-treated. "You gotta get up in the morning; you gotta cook, you gotta wash, you gotta do everything, despite the fact that I'm in a wheelchair," Patsy recalled.
Her father died when Patsy was around 22. "After he died, I kept moving from one aunt to the next for short periods. One look at you for one morning, the next one look after you another morning and then the bickering would start between them," she recalled. As a result, Patsy went back to the Cheshire Home when she was in her late 20s.
Training
"After I returned, I used to assist in feeding the residents and putting on their clothes after they would've had their baths, etc," Patsy recalled. It was as a result of her helpfulness and zeal that the then administrator of the home, Dawn Richards, encouraged her to take a course with the Nursing Council. "She said that if I could do it without pay, and they need staff it's better if they employ me. So she brought a trainer from the Nursing Council and we did a one-week crash course at the home."
Asked what it is like working at the home as a disabled person, she replied, "It's very, very hard to work with normal people when you have a disability, because they have their good feet and hands and they can move faster. Sometimes some of them are not so kind. They would say 'all of us are working for the same amount of money, so we all have to put forth the same effort.' It's rough, but I cope. Sometimes it gets to me but I just put it behind my back. I just tell myself this is it, I have the willpower and I gotta do it."
Patricia is determined not to give up and to beat the odds, and she encourages herself whenever she feels down. "I'm not giving up because I could've been like the other residents in the home there; just lying in my bed… and people got to turn me and feed me and bathe me. Instead I'm able to help them." This, she said, brings her great satisfaction, "When I come home I would think back. I would think how they would feel if they wet their pants and were left there whole day without anyone to pay attention to them. I would try to put myself in their place and analyze the way they or I would feel if somebody does that…" and this, she said, is her motivation.

Love life
"When you meet a certain age, no matter how you are, you must want a companion," Patricia stated. With this positive mindset, Patricia has now been in a loving relationship for four years, and she and her reputed husband Norvil Matabadal plan on tying the knot some time next year.
"I was 42 when I met him," Patsy said. "He used to pass, and I never really used to say anything to him. So when I was on the 11-7 shift, when I going home he would be right there by the street corner, under a lantern post. And how I used to vex; I used to swear. I used to pray to come off this shift 'cos I wanted to go home before this guy. He would not give up. I used to tell him some things, and still he didn't give up. He would tell me how he's a pastor and tell me things 'bout the Bible. Eventually we became friends and he came and he visited my home and so."
Norvil said, "I feel is God send me to her. Before I met her, I was a very hot-tempered young man; doing a lot of worthlessness, getting into a lot of problems and so on. And I was trusting God that I would see someone to marry and settle down. One of my good friends showed her to me as she was passing and told me 'that is a good woman, pelt a shot [approach her].' The next day I took a real good look at her and realized that she's actually a nice woman. I ended up approaching her and we began talking." Norvil, a fish vendor, soon began presenting his intended with fish, which she gratefully accepted.
"I'm a big woman, and if God made companions for the birds and the bees, so why not for man? I only have a disability," Patsy said. "I'm differently abled to you, but I still have emotional feelings like everybody else because I'm still a human being. Just how I could cry when somebody dies, is the same way I could laugh when somebody gives me a joke. So why can't I have sex?"
As a result of her choosing to have a relationship Patricia was forced to leave her childhood home. "At the institution they didn't want any male to come visit you. So I moved from the home to a little place a few streets away. I bought my furniture and so forth because I had my own vision of what I wanted."
Patricia was now free to indulge in her relationship with Norvil, during which they had long conversations on companionship and "eventually the guy move in…"
Norvil said: "I feel more comfortable because I have a wife who won't go to different neighbours' home and gossip. I feel more comfortable with her, because one time I had a woman before her who messed me up, and she was a perfect one that used to do everything."
Like every relationship, theirs has had its ups and downs, but they have withstood the trials. One of these tests was when Patricia miscarried during her first and only pregnancy. "I was pregnant and I miscarried and have never been able to become pregnant again," Patsy said wistfully. They have since talked about adoption, she said, stating that once "everything settled we might adopt a little boy 'cos I love boys."
Norvil said living with a person with a disability is sometimes rough but, "I love her because she loves me too, and it keeps me off the road and out of trouble and bad company. I help out around the kitchen. Another good thing is that she's working and I feel proud that I have a wife who is working for her own money even though she has a disability. She's an independent woman and she's not a quitter. She's still trying her best."
Patricia also shared her reasons for loving her husband: "I love him for his patience, because whenever we have arguments I would prolong things and be puffed up and so on, but he would just go out and by the time he comes back in the afternoon he okay again. And he would provoke me till I talk to him."
There was also competition for Patsy's attention, which caused the couple to move from their first home to where they are currently. After a man who lived close by kept trying, with no encouragement, to get involved with her, Patsy said, "I finally told my husband and there was a big scene with them, and we had a court story and all, but thank God it's finished and we moved from there."
Patsy and Norvil are building their own home in the Mahaica Hospital compound, which is now open as a housing scheme.
Though she is wheelchair bound, Patsy can do almost everything around her home. "I do my own washing and cooking," she said. "The only problem I get is when I wash I have to get somebody to help me rinse because the things aren't low enough for me to rinse or hang my clothes, so my husband does that. If he has to go out he pays someone to do it for me." She explained that she is able to come out of her wheelchair without assistance to use bathroom. "If I couldn't come out the chair I wouldn't have had a gentleman," she laughingly quipped.
Patricia considers herself an inspiration for other persons with disabilities. "I would say to them, if they want to do something and they have the willpower to do it, go ahead. You can live your life as normal as anybody else… if I could do it, you could do it too," she said.
Patricia will be 50 this year.
Around the Web