Fire last evening destroyed a two storey building at Lot 18 D'Urban Street that housed a residence and a fish shop, leaving losses totalling millions in its wake. Fire officials suspect that the occupants were stealing electricity.
Miraculously a dog and a rabbit survived the 8.30 pm inferno which gutted the property in a matter of minutes.
A distraught Jerry Chow who occupied the upper flat along with his wife and two children told Stabroek News at the scene that minutes after securing his home and walking several corners up D'Urban Street, he was informed that his house was on fire.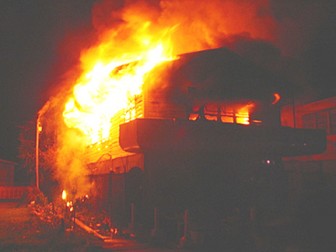 Chow who was only wearing  a pair of short pants and sustained an injury to his foot when he rushed into his yard, said that some of the residents claimed that it was an electrical fire. The man said that according to one neighbour, the fire started at the side of the house where "the electrical wire run from the house to the box." However, Chow made it clear that he does not receive power from the Guyana Power and Light but rather from a generator. He said he heard that the wire was sparking.
"I don't have electrical from GPL in my house," he said adding that he had only minutes before locked his door.
Chow said that he had been living at the location for many years but did not control the OD's Fish shop and Sports Bar which is housed on the lower flat.
His losses ran into the millions, he said, and he was unable to save anything.
Even as the man disputed that GPL electricity was running to the building, Stabroek News was informed by a fire official that there was evidence to suggest electricity theft.
Later Chow was taken away from the scene by police for questioning and initially he seemed reluctant to go. A policeman held onto his hand while a man held him by the waist and they escorted him away.
Stabroek News was unable to make contact with Odetta Fogenay who owned the business in the lower flat which had been in operation for about two years. A Chinese restaurant was once housed there.
Meanwhile a resident recalled hearing a low explosion and thinking something had happened to her car. When she looked out she saw the upper flat of the neighbouring house engulfed in flames. She said that the fire spread within a matter of minutes.
The woman like Chow and others praised the Guyana Fire Service for their quick response which resulted in at least two nearby buildings being saved. They said that they arrived with some water and sourced more from a nearby canal.
When this newspaper arrived at the scene, the area was in black-out and curious onlookers had  gathered. Police blocked off a section of the road to allow the fire-fighters to work. Absent were any leaking hoses.
Pockets of fire were still evident in the ceiling of the upper flat and water was being sprayed on them, and thick smoke could be seen bellowing from the burnt structure.
Three fire tenders were on the scene.
Fire Chief Marlon Gentle was also there but he was unable to provide any information as he said he had just arrived.
Around the Web