Seven people are homeless after a mid-afternoon fire yesterday destroyed their house at Block 22 Wismar, Linden.
At the time of the fire, no one from the Thom-Pantlitz family of seven was at home and nothing was saved. The inferno was first spotted by a neighbour Claudette Henry. "I start seeing smoke taking over the house and at first I thought somebody was burning rubbish," she said, but on peering outside, she realized that her neighbours' house was on fire.
Pauline Thom and three of daughters were at church while her husband of two years was out. She said that when she got the news she took a few minutes to pray, compose herself and then she went over to see what had occurred.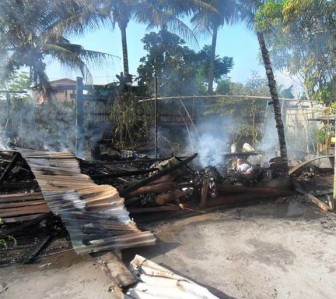 Thom said she had been living at the lot for over 17 years and that the house had been reconstructed two years ago by her church, but had no electricity connected.
"Although we had no current was only last week my husband brought home a computer to help the girls out with their schoolwork." The children are 18, 13, 12, 8 and 6 years old.
The whereabouts of two of the children were unknown but it was confirmed that they were not in the house at the time of the fire.  Kester Pantlitz said that he had left home approximately 15 minutes before the fire.
He said he was sure that nothing was left on in the house. Residents said that the fire which had engulfed the wooden house was put out by heavy rain prior to the arrival of the fire fighters.
Around the Web