APNU and PNCR Presidential Candidate David Granger presented Region 10's top three performers with book vouchers that would be extended throughout their secondary school years at a simple ceremony hosted at the Egbert Benjamin Conference Centre in Linden.
The three Regma Primary School pupils numbered among the top ten students at this year's National Grade Six Assessment and were each awarded a place at Queen's College. Terron Alleyne topped the country with a score of 537, Carol Hopkinson placed third, along with two others from Linden, with a score of 534 and Teryka Mohabir placed sixth, along with two others, with a score of 533.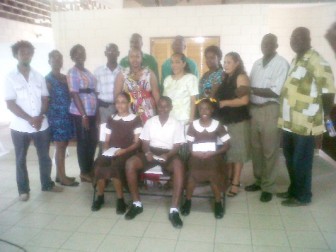 In his address, Granger said he was committed to education and he outlined some of the plans he intends to implement if he's elected into government. He also referred to efforts the PNCR is making to facilitate the movement of children from Linden to Georgetown to attend senior high schools and the University of Guyana. Granger spoke on this issue after parents lamented the expenses incurred to provide boarding and transportation for their children in order to allow them to attend the schools they earned at the Grade Six exams.
Over 60 pupils from Region 10 have been awarded places at the country's most senior secondary schools. However, transportation and other costs mean that it is likely that more than 50% of these students may transfer to the Mackenzie High School, the most senior secondary school in Linden, a move regional authorities are grappling to avoid.
Around the Web