A fire yesterday afternoon destroyed a two-bedroom house at Brusche Dam, Buxton, East Coast Demerara, leaving a family of five with losses of an estimated $1 million in household items.
When this newspaper visited the scene yesterday, Oneeta Bacchus, one of the owners said that she was at work when she received a call stating that her house was on fire. The distraught woman said when she arrived the house was already completely destroyed.
Co-owner, Stephen Braithwaite, was also at work and like Bacchus, he was only able to see the charred structure.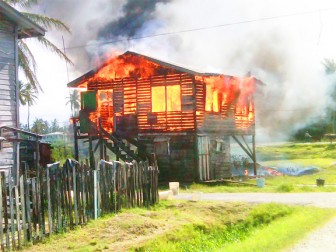 Bacchus revealed that among the items lost were four beds, a washing machine, television, microwave and other home appliances. "The only thing the house didn't have was a fan," she said.
Fortunately, none of Bacchus's three children were at home at the time of the incident. When the enquiry was made, neither of the adult occupants could say what had caused the fire, as they had "left nothing on".
One very helpful neighbour, Herdly Amsterdam related to Stabroek News that at around 2.15 pm he was sitting on the landing of his house, situated directly opposite the burned structure, when he noticed the flames emitting from the front of the house. Another neighbour volunteered that a bedroom had been located there.
Amsterdam said he ran out and alerted others, while making his way up the stairs in an attempt to open the door to the burning building; "me and some guys try opening the door but it was locked so I get a hammer and break it open, and we tried to form a bucket brigade but the fire was more than us". Amsterdam said the fire spread rapidly and the only things he and two others were able to salvage were a gas stove (cylinder and all) and a fridge, by "throw[ing everything] over the rail".
He, along with some other neighbours said the fire service arrived about one hour after the fire had started, by which time, the top of the house was "already gone".
Residents in the area suspect that the cause of the fire might have been as a result of the constant blackouts, one of which, one woman said, ended just around the time the fire began.
According to Braithwaite, he and the four other occupants will be staying in Enmore.
Around the Web