Education Minister Shaik Baksh on Sunday urged underperforming schools to emulate the academic strides made by the Regma Primary School.
He made this statement at the school's graduation ceremony, where he pledged a personal financial commitment of $25,000 to Terron Alleyne, who topped his school and the nation at this year's National Grade Six Assessment.
"I cannot come here to Linden without congratulating Terron Alleyne for his outstanding achievement," said Baksh, who also said he would be following the boy's progress throughout his secondary school career. Students Teryka Mohabir and Carol Hopkinson, who were also among the top ten for the country and the top three for Region 10, also came in for praise from the minister.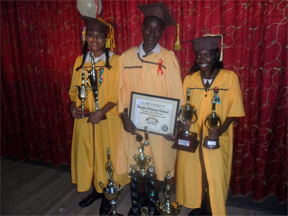 Baksh also used the occasion to announce that prior to the beginning of the new school year, the Mackenzie High School would be home to a fully furnished computer laboratory.
Addressing the audience at the Linden Concert Hall and School (LICHAS), Baksh said he made a special effort to be present to use the opportunity to send a clear message to underperforming schools that they need to follow Regma's example.
Baksh said that the school made a "quantum leap" over its performance last year,
This year, Regma alone accounted for eight places in the 1% for the country; 24 of its students will be attending schools in Georgetown, while 22 others will be heading to the most senior secondary school in Linden, Mackenzie High.
Baksh spoke at length on several other issues related to the education system in Guyana, while noting that his ministry was working to address the critical issue of drop-outs. "In Guyana, we do have an unacceptable high rate of drop-outs, that is the secondary schools, and we have got a few measures in place to ensure that children remain in school and complete the secondary cycle of education," he said. He urged parents to ensure by whatever means necessary that their children complete their secondary education.
The top three pupils each received individual trophies. They also received special gifts, while Alleyne was awarded an honour plaque. Other graduating pupils received gifts for playing their part in helping the school to record a pass percentage of 59%.
Among the 87 pupils who wrote the examination from the school this year were two grade five pupils, who passed.
It was stated that the school's Head Teacher Mary Heywood was retiring on an excellent note. Her successor would be Joan Rigby.
Meanwhile, guest speaker Valarie Adams-Sharpe, laid out her personal academic achievement as an example of the sacrifice and determination necessary if one is to succeed. "Many of our students feel that the students in the Georgetown's schools are better than them. I am glad that Linden topped the country. I am glad that so many of you have made it to the top ten, and many more in the top one hundred. This will put your faith in good stead, replacing the fear that might have been there," said Adams-Sharpe.
She cautioned those present to never think that only the honour students were intelligent ones, because everyone had their own potential.
Around the Web