A security guard from Professional Guard Service died on Sunday afternoon in the vicinity of Avenue of the Republic after she was struck down by a motorcycle.
Dead is 56-year-old Rubena Hutson of Indepen-dence Boulevard who relatives said was at the time returning home from work. The accident occurred some time after 3 pm.
According to a police press release, the driver of the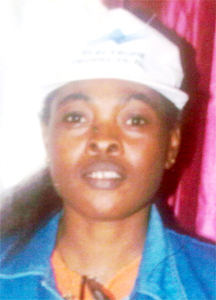 motorcycle CD 3158 was proceeding along the roadway when it is alleged that Hutson attempted to cross the road when she was struck down.
However, Hutson's relatives told this newspaper that she was not crossing the road when the accident occurred. Kenneth Charran, son-in-law of Hutson, said that according to eyewitnesses, Rubena was walking with another female guard in the direction of the bus park when her colleague proceeded to cross the road. The motorcycle, which was travelling in their direction, made an unexpected swerve in an attempt to avoid hitting the other woman. As a result, Hutson, who was standing in the corner, was flung some 20 to 30 yards away from impact.
The woman was reportedly taken to the hospital by a taxi driver where she was kept in the emergency unit and two hours later, succumbed to her injuries. Charran related that among the woman's injuries were a fractured skull and a broken leg.
"He [the motorist] said she run into the side of his bike but how she pitch forward? Plus she can't even walk properly, how she gon run?" the woman's distraught daughter Sharon questioned.
Meanwhile, the woman who was at the time accompanying Hutson, has not yet come forward to make a statement. "We ain't even know who is the woman. We went to PGS but we ain't find her. She doesn't seem to want to do anything," Charran stated.
Hutson's relatives also reported that the motorist has since been arrested. However, the motorcycle, which is said to be a CBR, was not taken into police custody.
Around the Web