Police are still looking for the person(s) who murdered Abdul Azeem Haniff before dumping his body in a septic tank and relatives are confident that police will find them.
A senior police official would only say yesterday that investigations are continuing into the matter and that no arrests have yet been made.
Haniff's sister, Bibi, told this newspaper when contacted that she has received no promising or new information from the police. The woman could not say if the female acquaintance that police were reportedly seeking had been found.
The woman was reportedly the last person to be seen at Haniff's Lot 23 Mon Repos Pasture, East Coast Demerara home.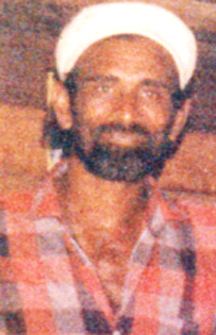 Based on the information gathered, the perpetrators entered the home of Haniff, who was physically challenged, through a back window. After strangling him they dragged him to the septic tank, threw him inside and covered the lid. He lived alone.
It would appear that they then returned to the house, locked back the doors and set the bed and two sofas on fire before exiting through the same window.
They then escaped by jumping a fence. There are surveillance cameras on a nearby house and it is unclear if police have made attempts to view any images it might have captured.
Neighbours were awakened around 01:30 hrs by the fire at the man's house and after alerting relatives living nearby they rushed over. After several attempts the front door was broken but Haniff was nowhere to be found.
The crutches he used to walk were still in his bedroom at the spot he usually left them when he retired to bed.
After several searches he still was not found and fearing that he had been kidnapped, police were informed. Ranks returned to the scene with relatives who had reported the matter but still the man could not be found.
A brother had said that it was he who led searchers to the septic tank located behind the house. He had explained that he began studying "whey they could carry a man like that, who can't walk". He said first he started looking at two water tanks and then at the septic tank. At that moment, persons were walking on the septic tank and he asked them to check inside. However they were not inclined as both covers were on. "Dem boys jump off and walk off and when I go and mek suh, de man deh in there," he added.
He, like Bibi, believes that police will find the killers. Neither of the two could come up with a motive for the killing. Bibi had said that while she did not know of any problems between him and anyone, he usually entertained "plenty" friends at his home. Burglars had broken into the house twice before and stolen money he had hidden in a chair.
Around the Web