Grade Six teacher of Novar Primary, at Mahaicony Shamena Charran has produced the most students in Region Five with passes to senior secondary schools at this year's National Grade Six Assessment.
She told Stabroek News that "to be a teacher you have to have a passion for the job and a vision to know where you are going and what is expected." Every year she is "trying to do better and would have many sleepless nights thinking how to get new approaches to help the weaker children."
Charran, who is also the head teacher, thanked all the dedicated teachers who contributed to the good results.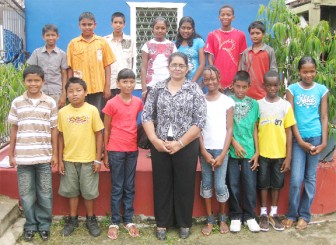 During an interview with this newspaper, the top students said they studied hard and enjoyed reading. They were happy with their good results. They thanked Charran for her effort, as well as their parents, relatives and God, for guiding them.
Petite, 11-year-old Tularam Ramanand, of Farm, Mahai-cony, who topped the school with 520 marks, said he was happy and was looking forward to attending his new school, Queen's College. The aspiring pilot said he expected to do well but not to top the school.
Placing second with 518 marks, Mohindra Dindayal, who secured a place at Bishops' High School, said he did not expect to do so well. When he learnt of his results, he cried tears of joy.
Another top student, Richard Bhainie, who secured a place at Bishops' High School with his 517 marks, felt he should have worked a little harder to gain a place at Queen's College.
Premini Doolchand scored 513 marks and would also be heading off to Bishops' High. She did not expect to do so well and in fact, when she heard her results she was spellbound.
Scoring 512 marks and attaining St Stanislaus College, Sheriza Mustapha said she was disappointed because she was hoping to achieve QC.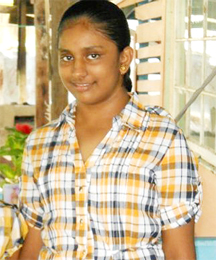 Joseph Nunes, 11, who would also be going off to St Stanislaus College after scoring 509 marks, was also surprised that he had done so well. His classmate, Rahul Lildhar, 11, who has secured a place at St Roses High School, said he studied hard. He aspires to become a pilot. Three students, Andy Alfred with 500 marks, and Asif Daniels and Christina Mangal, who gained 499 marks each, have been awarded places at St Joseph High.
The other students who have done well and will be attending President's College are: Roshan Price with 497 marks, Joshua Munniram, Yatricia Singh, 493 marks, Elijah John, 491 marks, and Nekita Blair, 489 marks.
Edinburgh Primary

For the first time, three students of the Edinburgh Primary School on the East Bank of Berbice have been awarded places at schools in Georgetown.
This is according to Grade Six teacher, Roger Wilson who was also pleased that over 85% of the students have passed to go to secondary schools. This, he said was an improvement from around 65%.
In 2009, the school also performed well with one student being among the top 100 of the country. The top student, Rafhael Cobis, 11, who gained 513 marks, was just three marks shy of being in that category this year, he said. Wilson pointed out that when "they [students] came to the class their focus was all over the place. But I worked with them and started the syllabus from Grade Five and they were able to improve."
He also "gave them a diagnostic test and realised that they had the ability. I started to let them know that is not too early to start focusing on a future and that they can succeed if they set their minds."
He said he had 51 students in the class and it was "difficult to get their attention but I tried to make learning fun and interactive."
Cobis told Stabroek News that when he learnt he had topped the school, he was overjoyed. He did not expect to do so well although he studied a lot.
He said he "loves to read and study science the most" and has his eyes set on becoming a scientist. He expressed gratitude to his "mother for providing the books" and supporting him as well his teacher and, most of all, God.
The student who gained the second spot was Anisha Andrews, 11, of Heathburn, with 508 marks. She was awarded a place at St Stanislaus College. She worked hard and expected a place at QC. She too enjoys reading and wants to become a scientist.
Akquyl Henry, 11, who came third, scored 498 marks and gained a place at St Joseph High; but will be attending PC.
Wilson said he was also pleased with the performance of Fenton Mingo, who wrote the exam at age 10 and managed to score 475 marks. He said the child was only nine when he was placed in Grade Six.

Tain Primary

Scoring 517 marks, Vanessa Ramnarain has emerged the top student of Tain Primary School and has been awarded a place at Bishops' High School. The 12-year-old, of Clifton Settlement, told this newspaper that she studied a lot and expected to top her school. But she was surprised that she was placed sixth in Berbice and felt excited. She attributed her success to her parents, Gankumar Ramnarain and Shelly Ramsarup, and teachers of her school as well as her lessons teacher of Alness Village.
She enjoys reading her "school books, text books and anything interesting" and her favourite subject is mathematics. Her proud father told this newspaper that three months ago she won a national essay competition in the under-12 category. She was awarded a certificate and a gift voucher to shop at Austin's Bookstore.
He said he knew his daughter would have done well because she was always a top student at the school and never got less than 93%. He said they "made a lot of sacrifice and sent her to extra lessons and kept checking on her at the school."
Rosignol Primary
Eleven-year-old Ridwan Azeez, who has topped Rosignol Primary with 513 marks and gained a place at Bishops' High, was looking forward to attending QC. He said the examinations were easy and he thought he would have done better. He admitted though that he "never used to study and but mom would tell me to do my homework… sometimes I complete them in the mornings."
His single mother, Juliet Dukhie, told this newspaper that she assisted by guiding him with his homework and did not "spoon-feed him". She said he developed a passion for reading and was an avid reader from age three. He reads a lot of Hardy Boys and would even hide the books under the bed and continue reading first thing in the morning. "Even when he is eating he has a book," she said. He also loves to play cricket.
Lachmansingh Primary
Naseeya Ishmael has topped the Lachmansingh Primary School with 504 marks but she was hoping to do better. Her single father, Aslim Ishmael felt she has done well. He said he dedicated time to ensure she understood her work. He stayed up late at night with her and after she finished her homework would test her from the Grade Six papers published in the Sunday Stabroek.
Around the Web