Finance Minister Dr Ashni Singh yesterday said that the administration will "spare no effort" in ensuring that those involved in the $196 million Accountant General's Department fraud are brought to justice.
Singh said yesterday during a press conference at his office, that government will ensure "that the perpetrators and their accomplices face the full extent of the applicable laws and that the strongest available penalties are brought to bear against them, including forfeiture of assets."
He said investigations conducted by the Ministry of Finance, the Audit Office and the Guyana Police Force have led to the identification of 75 suspicious transactions totalling $196 million. He said that 75 cheques were actually issued to 54 separate beneficiaries–at least 14 of which had had repeat transactions. Singh said that "all the beneficiaries who encashed those cheques" have been identified and many of them are currently assisting the police in the ongoing investigation.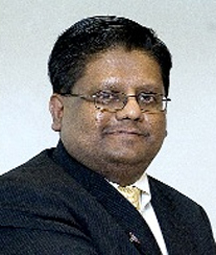 "The administration has given the Audit Office and the GPF all the support needed to pursue the fraud investigation to its end including in relation to the use of the fraudulently obtained funds to acquire personal assets," he said, reading from a prepared statement.
Singh said the administration "has identified certain breaches in procedures that were committed in perpetrating the fraud and has moved to correct them, including but not limited to steps to revise procedures, ensure compliance and recruitment of staff."
The discovery of the fraud was publicized on March 1. According to a statement issued by the Office of the President, the faulty transactions were detected following internal checks by senior supervisory staff from the Finance Ministry, who, according to Singh, conducted "relevant intelligence gathering activities."
In a letter addressed to Auditor General (ag) Deodat Sharma later that month, Singh informed of the irregularities in the Accountant General's Department. He stated that initial reviews found that payments of superannuation benefits to officials were irregular and "designed to avoid standard financial and accounting procedures." Singh also stated that the Auditor General would have been provided with "all the necessary cooperation and support" for the investigation.
The Accountant General's Department, among other things, checks financial statements of all government ministries, agencies and departments and transmits these to the Office of the Auditor General for auditing.
Police have so far issued wanted bulletins for 27 persons for questioning in relation to the multi-million dollar fraud. So far, three persons have been charged in connection with the fraud.
Around the Web