The top storey of a Cummings Street, Alberttown house was yesterday afternoon gutted by a fire of unknown origin.
At about 3.15 pm yesterday, the top flat of the two-storey 342 Cummings Street house went up in flames, but the quick response by the Guyana Fire Service saw the fire being contained. There were no casualties. The house, which is located behind the business establishment Baron Foods (Guy), is owned by Elsa Phillips, who lives in the USA.
Caretaker of the building, Ingrid Grant told reporters that she had finished cleaning the house at about 2 pm and left to call Phillips at a nearby internet café.  She said that some time later, she heard a loud commotion outside and heard people shouting "fire". When she emerged from the internet café she saw the building on fire. She was unable to save anything and even fell as she rushed to the property. She said she is unaware of what could have caused the blaze since while there was no power outage at the time, she did not leave anything plugged in.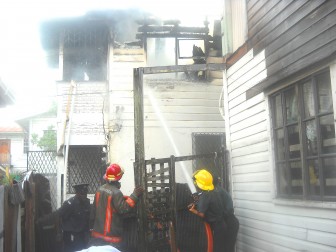 Baron Persaud, proprietor of Baron Foods (Guy), said that one of his employees was at the back of his business establishment when he observed the fire.  "He come and tell me 'boss man, the place on fire'," Persaud said. According to him, when he rushed to the back he saw that the back of the upper flat was on fire.  Persaud said that he called the Guyana Fire Service and used his personal hose to try to quench the fire.
He praised the fire fighters for being "well organized", saying that they arrived about five minutes after he called them and got immediately to work. "They were well organized, there was no confusion or so," Persaud said.
As the firefighters battled the blazed, neighbours began removing their valuables from their homes in case the fire spread. A large crowd also gathered at the scene. However, within half an hour, the fire fighters had the blaze under control.
Around the Web