A father accused of lashing his son's ear with a chopper was yesterday admitted to bail in the sum of $30,000 after appearing before acting Chief Magistrate Priya Sewnarine-Beharry at the Georgetown Magistrates' Court.
The allegation against Shiv Sanchara Kellawan is that on July 12 at Georgetown, he unlawfully wounded Kelman Kellawan.
The defendant who resides at 7 John Street, Campbellville denied the unlawful wounding charge when it was read to him by the magistrate.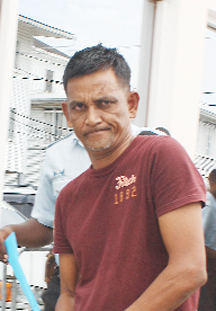 Presenting the prosecution's facts, Police Sergeant Lionel Harvey told the court that the accused and his 17-year-old son have been having frequent arguments.
According to Harvey, on the day in question the two who live at the same residence had a misunderstanding when the elder Kellawan picked up a chopper and lashed his son to the ear.
A police report was made and subsequently the accused was arrested and charged.
The prosecution had no objection to Kellawan being granted his pre-trial liberty but requested that bail be set in a substantial sum to ensure that the accused returns to stand trial.
It requested also that conditions be set for the two to be placed on a bond to keep the peace pending the determination of the matter.
Given a chance to speak, the accused declared, "I din hit my son with any chopper." He said too that he would never do that as a chopper is a dangerous weapon that can cause serious injury.
When asked by the magistrate if there was another address to which he can move until the matter is determined, the defendant provided Lot 3 Second Street, Bel Air Park.
When told that he has to remove from his present address, the defendant explained to the court that he runs a business there.
Magistrate Sewnarine-Beharry, however, explained to Kellawan that it was important for him to move to another address at least temporarily until the matter is determined. The magistrate emphasized also that it is important for peace to be maintained between himself and son.
The presiding magistrate then told Kellawan that since his business his located at his 7 John Street, Campbellville premises, whenever he goes there just for the purpose of conducting his business, he must do so peaceably and then leave in like manner.
She told him firmly that failure to observe the conditions under which bail was granted can result in it being revoked and then he would be imprisoned until the matter ends.
The matter was transferred to Court Six for today.
Around the Web