The French armed forces has conferred the Gold Medal of National Defence and the Silver Medal of National Defence on Army Chief of Staff Commodore Gary Best and Colonel General Staff Bruce Lovell, respectively.
In a press release, the Guyana Defence Force said France's outgoing non-resident Military Attaché, Lieutenant Colonel Daniel Kopecky decorated the officers with the medals on behalf of his country's Minister of Defence, Gerard Longuet. The medal has three levels: gold, silver and bronze, and is awarded to active military personnel or reserves who are distinguished by the quality of services rendered, or to French civilians and foreign military civilians who have rendered honourable services, particularly to the defence of France.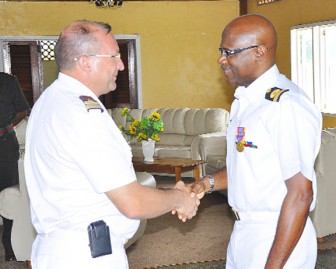 In brief remarks, Commodore Best acknowledged that the GDF and French Armed Forces have kept traditional ties strong and as such the two militaries continue to enjoy fruitful relations and co-operation in several areas. Best then bestowed Guyana's third highest military award, the Military Efficiency medal on Kopecky for his efforts in continuously promoting and fostering the highest standards of co-operation in several areas   between the two militaries. He also lauded Kopecky's outstanding leadership qualities during his tenure. Kopecky's three-year tour of duty as a non-resident military attaché to Guyana and Suriname ends on Friday.
Around the Web