A driver escaped with minor injuries last night after he lost control of his vehicle while speeding along the Houston, East Bank Demerara (EBD), public road.
According to reports, the vehicle, bearing registration PLL 7768, was proceeding north along the roadway in the vicinity of the Houston bypass around 8:30 pm, close to Rahaman's Park when the accident occurred.
An eyewitness told Stabroek News that a police vehicle, a Toyota pick-up, was proceeding behind the car when it shot around the turn. The driver was the only occupant of the car.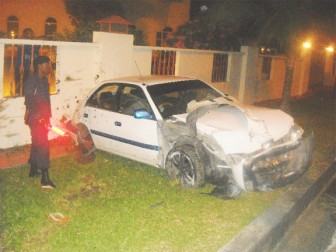 The eyewitness noted that the car then headed for the D'Aguiar's Park fence at the western side of the road, "and the speed he going at, all I hear is bang… he crash into it and the car literally rebound off it." The fence has been destroyed on multiple occasions due to vehicular accidents.
The driver of the car sustained a fractured left arm as well as several cuts and bruises and he was later taken into police custody. Several onlookers converged at the scene as traffic was drawn to a crawl at the usually busy roadway. The car was later towed away from the scene.
Around the Web