The St. Barnabas Church has been sold.
The 127-year-old structure has been bought by business magnate Afro Alphonso, proprietor of Pomeroon Oil Mill Incorporated.
The announcement was made Monday by Mayor Hamilton Green at the City Council's statutory meeting at City Hall. Green expressed dissatisfaction at losing one of the city's historical landmarks.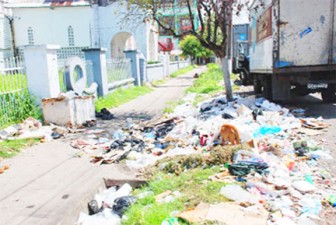 He later spoke with Stabroek News and indicated that the new owner shortly intends to demolish the building and have a modern commercial complex erected.
He added that while he attempted to persuade the leaders of the diocese to reverse their decision to sell, he was told that there were many difficulties in maintaining the church, which is situated in a commercial zone. These difficulties included its very small congregation as well as the fact that vagrants had succeeded in making the church compound their home.
Green also related that he was told that the government will not be willing to offer compensation as would be given on the open market, and as such, the decision was said to be final.
He strongly believes that laws need to be changed to safeguard historical buildings. "The necessary adjustments to legislation need to be enforced so that these historical buildings can be preserved," he noted.
Around the Web