Twenty-three tour guides are attending a two-week Interpretive Guide Training Programme being held at several locations across the North Rupununi.
Sessions are being held at the Bina Hill Institute, the Rock View Lodge, the Atta Rainforest Lodge and the Iwokrama Canopy Walkway and the Surama Village and Eco-Lodge, in a programme sponsored and organised by the Guyana Sustainable Tourism Initiative. Rupununi River Drifters and Guyana Feather Friends are among the tourism businesses participating in this joint United States Agency for International Development/ Guyana Trade and Investment Support (USAID/GTIS) Project and the Guyana Tourism Authority.
Tourism lodges, community tourism projects and tourism organisations from across Guyana were invited to send one of their lead guides to participate in the course, a press release from the GTIS said. The training team comprised local experts including Ron Allicock and Wally Prince, Sydney Allicock of Surama Village and Eco-Lodge, Teri O'Brien of Wilderness Explorers, Hugo Panti and  Raquel Thomas-Caesar of the Iwokrama International Centre and Jennifer Wishart of the Walter Roth Museum, along with Chuck Lennox an interpretive instructor from the US.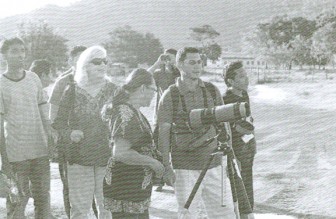 Lennox, principal of Cascade Interpretive Consulting LLC, is the lead instructor. He brings a wealth of 25 years of professional experience to the course and is an expert in developing quality interpretive and education programmes, training programmes and natural history and wildlife classes, the release said. Minister of Amerindian Affairs Pauline Sukhai, USAID Director Carol Horning and GTA Director Indranauth Haralsingh all commended the guides on the critical role they play in the growing tourism sector, during a visit at the Institute. The Tourism and Hospitality Association of Guyana (THAG) through sponsorship provided by the Guyana Telephone and Telegraph Company is also supporting the initiative. THAG is providing a transportation stipend to the guides.
The course has been designed to build on and improve guides' existing knowledge and skills necessary for guiding interpretative programmes and tours.
It will also incorporate the production of a field guide template that can be easily customised by individual tourism sites to provide a visual and written record of valuable local resources such as geography, culture, ecological communities and facts, figures and maps.
In addition, the GTIS said it will host a short follow-up course two months after the initial training session. "The break will allow guides to return to their home sites and practice using their new skills while identifying species and items of interest to include in their field guides," the release said.
Around the Web