The United Force (TUF) installed members of its first official party group in Wismar, Linden to prepare them for its election campaign in Region 10.
According to a TUF press release, leader and presidential candidate Valerie Garrido-Lowe and prime ministerial candidate and party chairman Ismail Mohammad installed the officers.
In her address, Garrido-Lowe said the TUF "Charter" sets out the conditions for a genuine democratic party and it is the foundation of the party. Its Charter states that "all people are equal under God.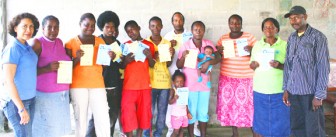 And that the purpose of Government is to fulfil the needs of the people and to safeguard their rights." Mohammad told the group that they were celebrating "an historical moment" and he briefed them on the party's contribution to Guyana.
Several youths at the meeting pointed out that one of the biggest needs right now is jobs. They noted that they wanted to work and earn a comfortable living and complained that their siblings and others who have finished school are unable to find jobs.
"That is why a lot of our young people are forced into living the fast life like pushing drugs," Althea Garraway said.
In response, Garrido-Lowe encouraged them to vote for the TUF.
"It is time for Guyanese to join with us in rebuilding and revitalising this nation and start building our 'Highways to Happiness.'
It is long overdue," she said.
Around the Web