A 19-year-old man who allegedly snatched a woman's  gold chain and pendant  as she was walking along a city street was placed on $100,000 bail after he made an appearance before acting Chief Magistrate Priya Sewnarine-Beharry at the Georgetown Magistrates' Court Tuesday.
The allegation is that on June 23  at Georgetown,   defendant Travis Alexander of Lot 109 Danrade Street, Newtown, Kitty stole from the person of Elizabeth Hinton one gold chain and pendant valued at $200,000,  property of the said Elizabeth Hinton.
According to the facts presented to the court by  Police Sergeant  Lionel Harvey, on the day in question at about 7:25 pm the VC was walking along Light Street when the defendant who was riding  a bicycle  accosted her and snatched the items stated in the charge. The man then rode further north along the  street and made good his escape. The VC subsequently raised an alarm and public-spirited citizens gave chase behind the accused but   the man managed to escape.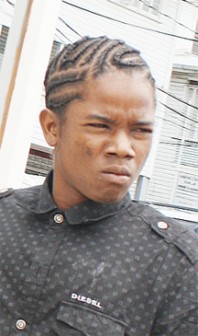 The matter was then  reported to the police and Alexander was later arrested and charged.
The prosecutor had no objection to bail, but  asked the court for substantial bail to ensure that the defendant returns to court to stand trial.
The man was then placed on $100,000 bail on condition that he reports to the Alberttown Police Station every Monday and Friday at 8:30am to Constable Branch who is the investigating rank.
The matter was transferred to Court  Five for July 28 for statements
Around the Web