Guyana stayed on top of regional squash by claiming another overall title in the Digicel Caribbean Areas Squash Association (CASA) Junior Championships today at the Georgetown Club Courts.
After showcasing their dominance in the individual segment of the tournament by carting off five of the eight titles up for grabs, they repeated their dominant play in the team competition by downing Jamaica 4-1 in the female team competition while the males mirrored their female teammates with a 4-1 win over Trinidad and Tobago.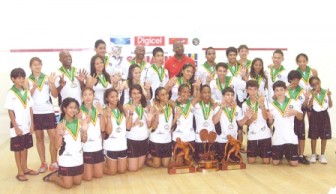 Guyana has now won seven straight female team junior titles while the males have now captured their sixth straight male team title in the championships.
To start things off for the females, Akeila Wiltshire endured a testing Mary Mahfood to prevail 3-2 at 11-6, 9-11, 11-6, 6-11 and 11-9 in the under-15 category.
Jamaica's under-13 champion, Alyssa Mullings then levelled the score at 1-1 when she downed Lydia Alphonso 3-0 at 11-2, 11-0 and 11-0 in the under-13 category.
Guyana's female captain, Ashley Khalil then took to the court and used her wide array of short jabs to outplay Lauren Mahfood 3-0 at 11-6, 11-6 and 11-6 in the under-19 category.
Victoria Arjoon then sealed the female team win along with the overall title when she defeated Jessica Perkins 3-0 at 11-7, 11-2 and 11-7 in the under-17 category.
Mary Fung-A-Fat then drove the nail home when she outwitted Ericka Robinson in  3-0 fashion in the under-19 category at 11-2, 11-4 and 11-4.
"It feels great to help the team win a seventh title and now it's just going back to hard training in order to help the team win again next year," Arjoon told Stabroek Sport after the win.
The males however provided moments of doubts for their supporters before running clear of their Trinidadian opponents.
Guyana went down 0-1. Nyron Joseph came from behind to tie the sets at 2-2 but eventually lost to Nku Patrick 2-3 at 8-11, 12-14, 11-3, 11-8 and 4-11 in the under-15 encounter.
Under-13 Champion Benjamin Mekdeci then ensured that Guyana got back on level ground when he tied the score at 1-1 by defeating Jonathan Blanc 3-0 at 11-2, 11-1 and 11-2.
Under-17 champion, Jason-Ray Khalil continued his dazzling patch of form when he outclassed Mandela Patrick 3-0 at 14-12, 11-4 and 11-3 with his energetic and unorthodox style of play in the under-17 match-up.
Alex Arjoon then came from a 0-2 deficit to gain revenge over the under-19 champion, Kale Wilson 3-2 at 9-11, 9-11, 11-7, 11-8 and 11-7. He had  lost to Wilson in the individual final of the under-19 category.
Guyana's male captain Deje Dias mirrored Fung-A-Fat's performance as he was the exclamation point of their teams' strength by downing Ryan Bayne 3-0 at 11-9, 11-3 and 11-7 in the under-19 category.
"It feels good to win against him, especially after I lost to him in the individual finals after a match pause…it's a good win because playing for your country rather than individual glory is more important, it's also a good one for me because he was up 2-0 and I saw him a bit winded and capitalized on it which makes it much better," Arjoon told Stabroek Sport of his victory against Wilson.
Meanwhile the Cayman Islands defeated Trinidad and Tobago 3-2 to cop the female's third position while Bermuda outplayed Jamaica 3-2 to take the third position for the males.
Immediately after the matches the closing ceremony was held and the players received their individual awards while Guyana collected their male and female team trophies along with the overall title.
Around the Web