As Lethem remained without power at lunchtime today, a few dozen residents of the area joined members of the business community there this morning in an ongoing picketing exercise outside the offices of the Lethem Power Company.
Reports out of the area are that the business community decided to  call the protest today, shortly after 11am  since no word had been forthcoming from the power company, more so the regional authorities  as regards restoration of power to the area. The border community as well as nearby areas had been without power since 10 pm on Tuesday evening.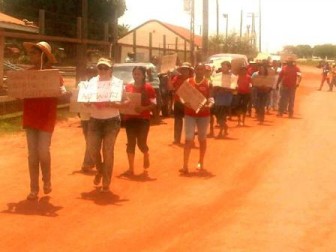 Former president of the Rupununi Chamber of Commerce and Industry (RCCI) Alfred Ramsarran told this newspaper today that the business sector was concerned that nothing was being done as regards informing the business sector on how soon power would be restored to the area. He said that a number of businesses, especially those with cold storage facilities are affected by the situation. The Lethem Hospital is also affected by the situation, this newspaper was told.
Residents noted today that while they have become frustrated at the situation even though they are being told over the past two weeks that fuel was being sent into the area. It was noted too by a resident that the state of the trail could not fully explain the non-arrival of  fuel  since smaller vehicles are able to enter Lethem from the Coastland.
Around the Web