A 27-year-old man who allegedly broke and entered the business premises of another man and stole $660,000 was placed on $200,000 bail after he made an appearance before the Acting Chief Magistrate Priya Sewnarine -Beharry at the Georgetown Magistrate's Court yesterday.
It is alleged that on July 9 at Water Front, Port Kaituma, the defendant Kanarey Vandenburg, of Lot 128 Tuschen Housing Scheme, East Bank Essequibo, broke and entered the business premises of Shawn Higgins (virtual complainant) and stole $660,000, property of the said Higgins.
The man pleaded not guilty when the charge was read to him.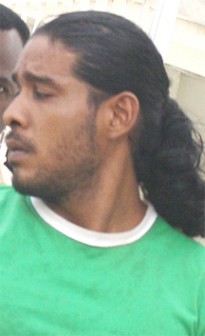 According to the facts presented to the court by the Police Sergeant Lionel Harvey, on the day in question at about 20:00hrs, the VC secured his business premises by means provided and went down to the Water Front. Upon his return, he noticed four window panes broken. The man later made checks and discovered that the money was gone. Higgins subsequently raised an alarm and a police report was made. Persons in the area notified the police that they saw the accused leaving the VC's  premises.
The lawmen took fingerprints from the scene and the defendant was later contacted by the police.
An investigation was carried out and he was subsequently arrested and charged.
The prosecution had no objection to bail, but requested that it be set in a substantial sum to ensure that he returns to court.
The man was placed on $200,000 bail and the matter was transferred to the Matthew's Ridge Magistrate's Court for August 2.
Around the Web