A miner was on Monday tied to a tree at 14 Miles, Bartica and beaten to death by three men, who were also armed with guns, after he was accused of having knowledge about a missing brush cutter.
Earle Austin, 37, of Nabaclis, East Coast Deme-rara had no chance of survival as he sustained numerous injuries to the head and other parts of his body along with broken limbs.
Distraught relatives, while calling on the police to ensure that they get justice, told this newspaper moments after identifying his remains at the Lyken's Funeral Home yesterday that reports were that he died begging for a cup of water. That water, they said, was never given to him and he died still strapped to the tree with rope.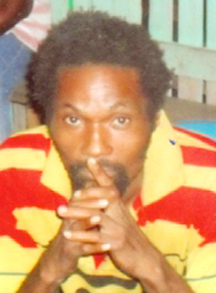 A teary-eyed Marlyn Cort told Stabroek News that it was a sister who informed her that she had received a report that their brother "was tied up in the bush and beaten". The woman said he had left to go to the interior to work but she could not say with whom.
She said their brother was murdered on Monday morning and she got the news on Monday night. She said that when she called the Bartica Police Station the following day she was told to visit Lyken's to identify the remains.
The body was transported to the city by police yesterday morning.
Cort said that according to an eyewitness, three men tied him to a tree and beat him to death. Cort said the man told them that the men were standing over Austin with guns.
Asked what the motive for the beating was, the distraught woman said they were told that the men had lost a grass cutter and had apparently implicated Austin. She said the grass cutter was later found, but by then Austin was already dead.
"I want to say I want justice because what they have done to my brother…, God is in the midst but God knows best," she said breaking down into tears. "I want the perpetrators to come to justice because that is brutal murder. They murder my brother. If you see my brother, he's in a terrible state…"
She said that even though it happened at an interior location where police presence is scarce, she is confident that the perpetrators will be caught because "at some point they have to come home".
Stabroek News understands that one of the perpetrators is from Linden while the other two hail from an East Coast Demerara village. One of them, this newspaper has been told, is wanted by police and has been hiding out in the bush for some five years now.
Relatives said when they viewed the body, they were shocked. They said Austin's eyes were black and blue and there were injuries to his head. His entire left side was badly bruised and his left hand and foot were badly broken. They said too that pieces of rope were still wrapped around his hand and foot.
They said others around at the time would have been scared to render assistance since the perpetrators were armed with guns.
"Why they had to beat he? Why they had to tie he up?" they questioned.
Austin leaves to mourn four sisters and five brothers.
Around the Web