Education Minister Shaik Baksh yesterday announced that the investment into schools to establish, or in some cases, refurbish computer laboratories is now worth $280 million.
"The overall worth of the project is $280 million. We had to go to the parliament for supplementary [budget] approval because we are moving so fast and I am assured by the Government of Guyana that more money will be coming to ensure that we complete our goal," he stated.
The initial contract was to the tune of $222.9 million but Minister Baksh said that this figure was elevated due to a networking project that will soon come in to place. With the cable network, he explained, internet connection will be provided to schools at a cheap cost or perhaps free and this will all be done in two to three years.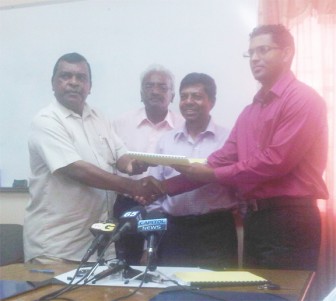 This announcement was made during the press conference when Digital Technology, of Grove, East Bank Demerara, was awarded the contract for the supply and delivery of computers and accessories to secondary schools. Digital Technology was deemed the "most responsive bidder."
The standard number of computers to one laboratory is 30 but since some schools are already equipped, 1,400 computers will be allocated among the 64 schools that have been selected to be recipients.
The minister noted that this project falls under their strategic plan to have all secondary schools provided with computer laboratories and will be completed before the new school year starts in September.
He also mentioned that some sixty primary schools are now equipped with computers and also, in the post-secondary institutions, all of the technical institutes are offering Information Technology courses.
These investments, Minister Baksh stated, are huge and are part of the government's vision and implementation programme to empower Guyanese, including students, to meet the developmental challenges to transform the economy. He also indicated that "education is one of the most critical areas for the development of ICT because narrowing the digital gap is more than just providing physical access to computers and the internet. People must understand how to use and put it to good use."
It was also noted that teachers too are being trained, with some 3,000 being schooled last year through the National Centre for Educational Resource Development (NCERD), while another 3,000 will be targeted this year in basic computer literacy.
Minister Baksh further stated that two large laboratories have been set up at the Cyril Potter College of Education as well as at the University of Guyana, so that graduating teachers will be equipped with more than just basic computer knowledge. Also, he said, some laptops will be provided to teachers. "We are moving closely to align the One Laptop Per Family with education," he said, adding that it will be the students who will go home and provide their families with computer skills. The selected schools are expected to be "training hubs."
The Education Minister added that the number of students that will do Information Technology at CSEC Examination will be tripled.
The schools that will be recipients are: North West in Region 1; Abram Zuil, Anna Regina Multilateral, Aurora, Charity, Cotton Field, and Johanna Cecilia in Region 2; Essequibo Islands, L'Aventure, Leguan, Leonora, Uitvlugt, Vergenoegen, Vreed-en-Hoop, West Demerara, and Zeeburg in Region 3; Annandale, Ann's Grove, Bladen Hall, Buxton, Covent Garden, Friendship, Golden Grove, Plaisance, President's College, and St. Cuthbert in Region 4; Bush Lot, Fort Wellington, Mahaicony, and Rosignol in Region 5; Berbice Education Institute, Berbice High, Black Bush, Canje, Central Corentyne, Corentyne Comprehensive High, Lower Corentyne, New Amsterdam Multilateral, Port Mourant, Skeldon High, Skeldon Line Path, and Tagore Memorial, in Region 6; Three Mile in Region 7; St. Ignatius in Region 9; Christianburg, Wismar, Linden Foundation, Mackenzie High, Silvercity, and Wisburg in Region 10; and Bishops' High, Campbellville, Charlestown, Christ Church, Cummings Lodge, Dolphin, East Ruimveldt, North Georgetown, North Ruimveldt Multilateral, Queen's College, St. Joseph's High, St. Rose's High, St. Stanislaus College, and Tutorial High in Georgetown.
Around the Web