Prime Minister of Trinidad and Tobago Kamla Persad-Bissessar recently called on regional heads to consider it as imperative that the people of the Caribbean, particularly young people, be invited to participate in creating the future in the Caribbean community.
In a statement at the Thirty-Second regular meeting of the Conference of Heads of Government, Persad-Bissessar said it is noteworthy that there is an increasing level of youth restlessness in all parts of the world, including this region, according to a press release from the CARICOM Secretariat.
"We must not ignore this phenomenon," she warned.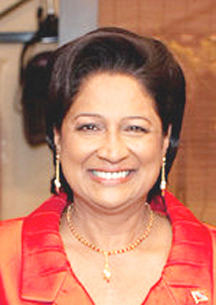 Persad-Bissessar also drew attention to the need to "sincerely and effectively engage our respective publics and communicate regularly the decisions of the progress of implementation in the various fora."
To this end, she advised, appropriate structures and mechanisms be put in place to achieve the desired results and there should be more than "lip service" to consultations.
"We must take the people into our confidence and let their collective voices be a part of the new journey upon which we shall embark," the release quoted her as saying.
The Trinidad and Tobago Prime Minister also urged her colleague heads to "inject new life and fresh passion, more intense commitment to a CARICOM agenda of locating the Caribbean people in the world space."
"We must ask and answer what space we wish to occupy in the global village in the future," she asserted, adding, "there is need for revolutionary thinking in that regard because we live in an ICT driven world and operate in an interconnected global community."
However, sounding a note of optimism Persad-Bissessar declared that despite some contrary opinion and uphea-vals in the international landscape that impact the region directly, CARICOM has made substantial progress.
"For one, we have been able to develop a working Free Trade Regime to the benefit of our member states. And we have been able to establish a single market which includes the free trade in goods, the free trade in services, free movement of capital and free movement in skilled labour," she observed.
She pointed out also that there has been significant progress in a number of other areas involving the establishment of the Caribbean Court of Justice, Competition Com-mission, a Development Fund, a Standards and Quality Organisation, the Climate Change Centre and the Caribbean Aviation Safety Security and Oversight System (CASSOS).
Moreover, she highlighted the integrated Caribbean Public Health Agency (CARPHA) and pointed to collaboration in the matter of regional security through IMPACS and other forms of bi-lateral cooperation.
The Trinidad and Tobago Prime Minister also raised the plight of women in the Caribbean while making a plea to join her "in efforts to lift the economic, educational and social status of women, particularly single mothers and poor families."
To this end, she noted that she had appointed two special women as envoys to visit and speak with Caribbean organisations and individuals involved in development of women and girls and she urged cooperation in the endeavour.
Around the Web