The Avon Foundation, through its Community Help Fund has come to the aid of Help and Shelter with a donation of US$10,000, which would allow the organization to continue its public education programme and cover its administration costs.
Speaking at a press conference yesterday morning, Chairperson of the Avon Community Help Fund Mignon Bowen stated that the Avon Foundation has recognized Help & Shelter's dedication to curbing domestic violence in Guyana and as a result was pleased to make the donation.
Bowen said the Avon Foundation has two programmes which support the cause of curbing domestic violence: the Speak Out Against Domestic Violence Initiative and the Avon Foundation Empowerment Fund. She said that there is always "a need for more resources to help support organisations which are committed to helping reduce the incidence of domestic violence and supporting the victims in our society."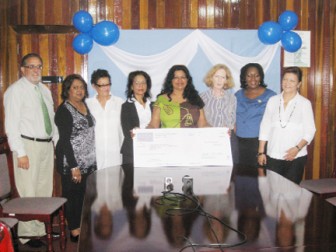 District Manager for Avon Juan Cabrera handed over the cheque to Chairperson of the Board of Directors of Help & Shelter Denise Dias, who expressed gratitude for the donation. She said that the organisation had been "cutting back" on its services over the last few months and the donation came at an "opportune time".
Help & Shelter Administrator Margaret Kertzious had told this newspaper in an interview last week, that because of a lack of funding, the organisation had been forced to curtail its education programme, while some staff members have had to take a cut in salary.
Dias stated that with the donation, Help & Shelter could continue offering the critical services of counselling, education and sheltering.
Around the Web